Spring Green Spanakopita
Eating your greens the Greek way
What you'll need…
500g Spring Greens
150g Butter
2 Leeks
4 Garlic Cloves
Small pack of parsley
Small pack of mint
1/2 small pack dill
1/4 nutmeg
250g Ricotta
100g Parmesan
2 Eggs
1 Lemon
270g Pack filo pastry
3 Tablespoons sesame seeds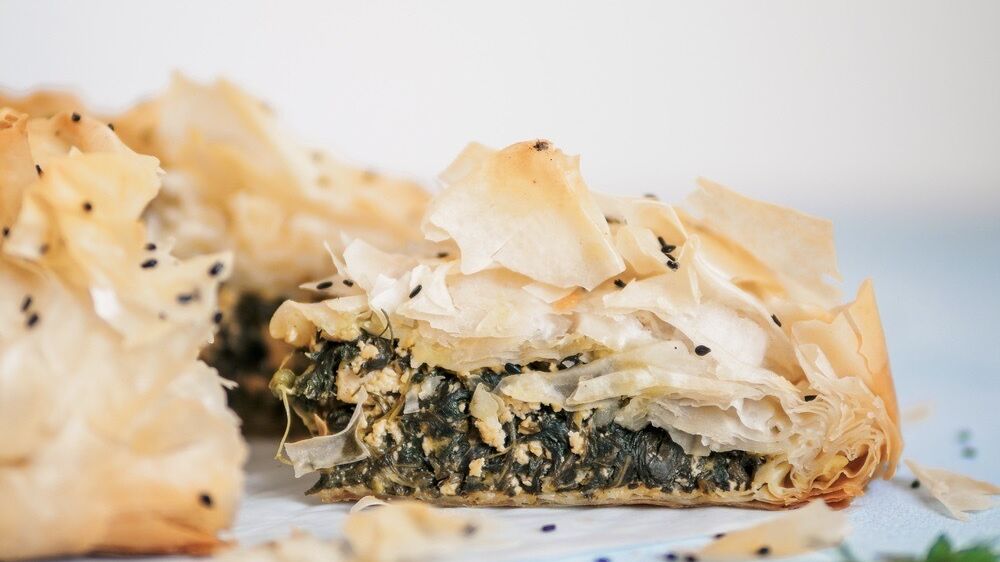 The method
1
Bring a large pan of water to the boil, in the meantime shred your spring greens (including the stalks). Tip them into the pot and boil for one minute, drain and leave to cool.
2
Slice your leeks and fry in a pan with 1 tablespoon of butter and a sprinkle of salt. Fry until soft. In the meantime finely chop the garlic and add into the pan for the final minute. Remove from the heat and leave to cool.
3
Squeeze as much excess water from the spring greens as possible and add to the pan with the leeks and garlic. Finely chop the herbs and grate the nutmeg and stir into this mixture. Zest your lemon and add into the mixture along with the eggs and cheeses.
4
Heat your oven to 200°C. You will need a 23cm springform tin to assemble the tart in. Melt the remaining butter and use to grease the tin. Layer the sheets of filo (scattering the sesame seeds between each layer) into the tin, brushing each one with butter and leaving plenty of pastry hanging over the edge. Make sure you save a few sheets for the top.
5
Once the tin in lined, fill with the green mixture and layer over the remaining sheets to cover the top. Fold over the sheets hanging over the edge to close the tart. Scatter any remaining seeds and brush with any remaining butter.
6
Bake for 40-45 Minutes until golden brown. Remove from the tin as soon as possible and enjoy!
Recipe from BBC Good Food.