Beetroot Burgers
Serve with your favourite toppings!
What you'll need…
2 Beetroots
1 Courgette
2 Large carrots
1 Red onion
2 Garlic cloves
3 Tablespoons olive oil
100g Porridge oats
400g Tin of chickpeas
3 Tablespoons tahini
1 Egg yolk
4 spring onions
3 Tablespoons fresh coriander
Salt and pepper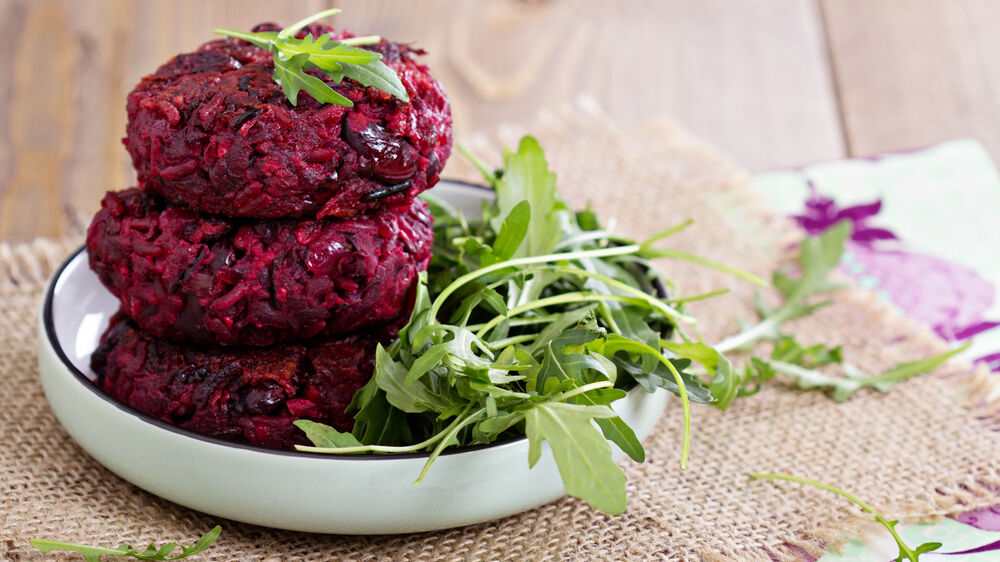 The method
1
Begin by preparing your ingredients. Start by finely chopping your onion and garlic. Then peel and grate the beetroot (wear gloves to avoid staining your hands). Grate your courgette, then peel and grate the carrots. Thinly slice your spring onion and roughly chop your coriander.
2
Separate the egg yolk from the egg white and set aside.
3
Heat 1 tablespoon of olive oil in a pan over a medium heat. Fry the onion and garlic for 4-5 minutes or until softened. Add in the grated vegetables and fry for 5 minutes or until soft. Make sure you are stirring continuously. Drain away any excess liquid.
4
Place the egg yolk, oats, tahini, and (drained) chickpeas in a food processor and pulse to combine. Place the mixture into a bowl and combine with the grated veg. Add in the coriander and spring onion. Season with salt and pepper.
5
Divide the mixture into 6 and shape into burgers. Cover with cling film and place into a fridge for 30 minutes at least.
6
Once they are out of the fridge, heat 2 tablespoons of oil in a pan and add in the beetroot burgers (in batches if necessary). Cook for 2-3 minutes on each side or until golden and hot all the way through.
7
Serve with buns and sides and enjoy!
Recipe from BBC