What you'll need…
1 Large cauliflower
1 Tablespoon olive oil
75g Butter
4 Tablespoons plain flour
400ml Whole milk
400ml Double cream
150g Grated cheddar
Nutmeg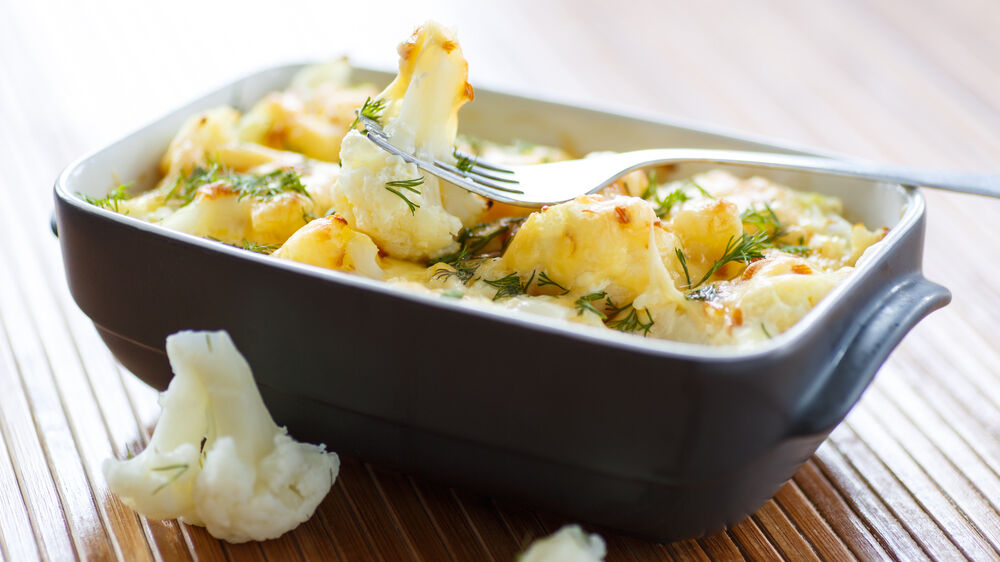 The method
1
Break your Cauliflower into florets then heat your oven to 200°C.
2
Place the florets into a large bowl with the olive oil and toss to ensure each floret is coated. Season well. Then transfer onto a large baking tray. Roast for 20 minutes until lightly charred. Allow to cool slightly and turn down the oven to 180°C.
3
Put the butter into a pan over a medium heat, once melted and foaming, add in the flour. Continue to stir for around 5 minutes until the butter is golden brown.
4
Put the milk and cream into a measuring jug. Turn down the heat and add a splash of the milk/cream mixture and stir quickly. Keep adding the mixture 2-3 tablespoons at a time, stirring well. Continue until you have a thick, smooth sauce.
5
Continue to cook for around 15 minutes more, then remove from the heat and add in the cheddar. Add a pinch of nutmeg and season well.
6
Place the cauliflower florets into a deep baking dish and pour over the sauce. Bake in the oven for 25 minutes until golden and bubbling. Enjoy!
Recipe from Olive