Kedgeree with Leeks and Smoked Trout
What you'll need…
2 Leeks
3 Eggs
150g Basmati rice
50g Butter
1 Tablespoon curry powder
300ml Chicken stock
125g hot, smoked trout (flaked)
Handful chopped dill
Lemon wedges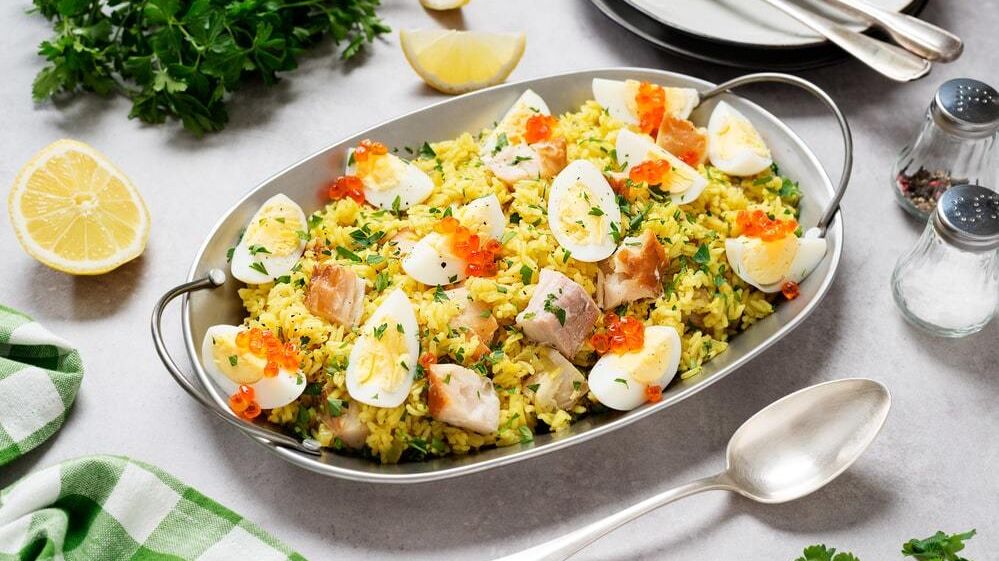 The method
1
Bring a pot of water to the boil and lower in the eggs. Allow to simmer for 7 minutes. Remove from the water and run under a cold tap, allow them to cool completely.
2
Rinse the rice under cold water and allow it to soak. Wash and slice your leeks.
3
Heat the butter in a large pan and add in the leeks. Cook for 5-7 minutes or until softened.
4
Stir in the curry powder and cook for 1 minute. Add the drained rice and stock and bring to a simmer. Put on the lid, turn down the heat and cook for 12 minutes.
5
The rice should have absorbed the stock, but add a splash of water if it needs it.
6
Stir in the trout and season to taste. Peel the eggs and quarter them.
7
Serve the kedgeree and place the eggs on top. Scatter over the dill and squeeze over the lemon juice. Enjoy!
Recipe from Olive