Mixed Berry Tart with Mascarpone Cream
What you'll need…
½ x 500g Pack fresh puff pastry (the rest of the pastry can be frozen)
250g Tub mascarpone
1 Teaspoon vanilla extract
400g Strawberries
200g Raspberries
250g Blackberries or Blueberries
Icing sugar
Mint leaves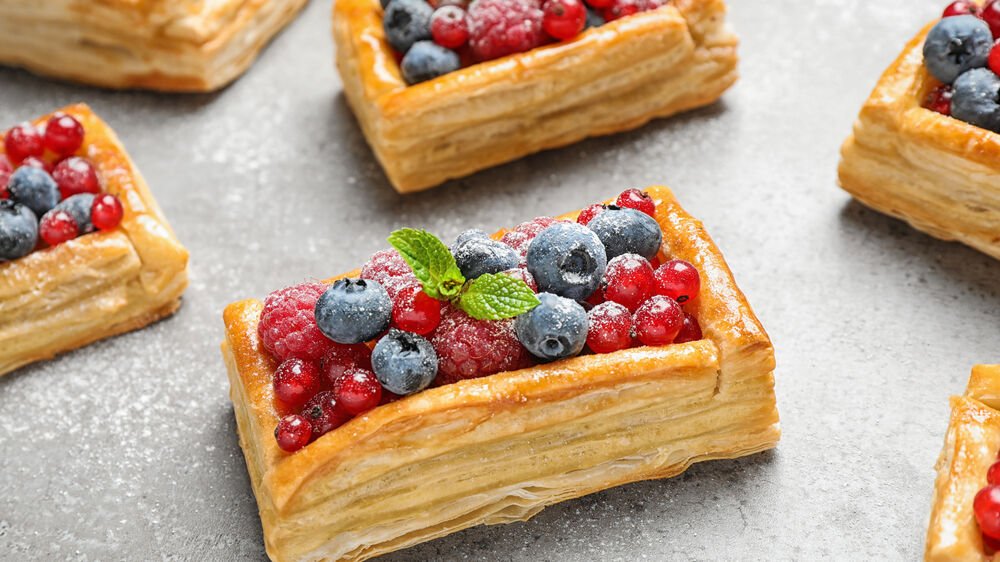 The method
1
Pre-heat your oven to 200°C. Dust a work surface with some icing sugar and thinly roll out the pastry to about a 25cm x 30cm rectangle – trim to neaten the edges. Place on a large, non-stick baking sheet and prick the pastry all over with a fork. Bake for 15 minutes or until golden and risen.
2
Carefully flip the pastry over and return to the oven for a further 5 minutes until the bottom is golden and the pastry is cooked through. Allow to cool completely.
3
Mix together the mascarpone and vanilla extract and spread out evenly. Hull the strawberries and chop into quarters. Spread out the fruit evenly across the tart. Garnish with mint leaves. Enjoy!
Recipe from Delicious.