What you'll need…
500g Parsnips
3 Carrots
100g Spinach
300g Split red lentils
1 Onion
1 Tablespoon cumin seeds
1 Tablespoon garam masala
30g Fresh ginger
400g Tin chopped tomatoes
Olive Oil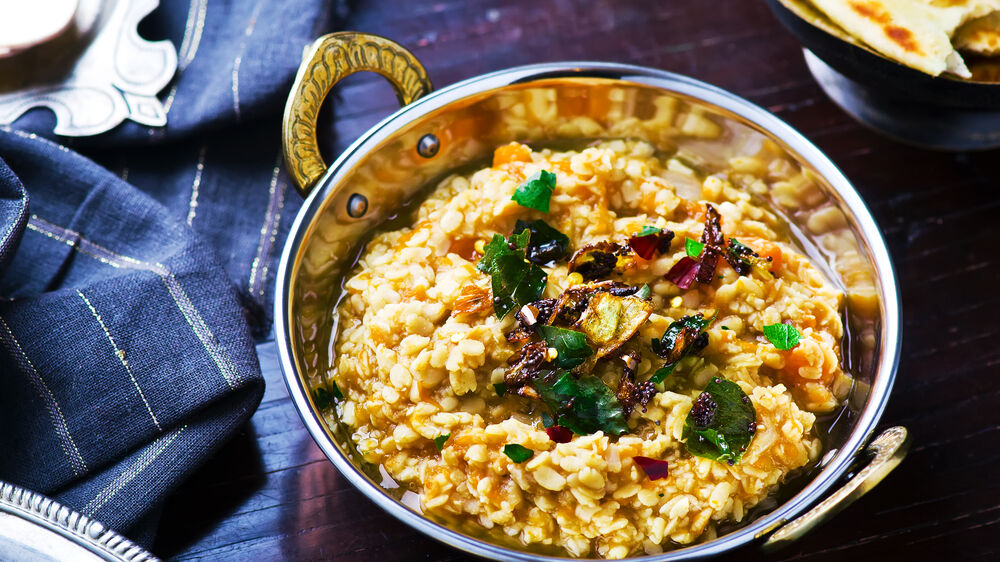 The method
1
Preheat your oven to 180°C. Prepare your parsnips by peeling and cutting into thin, diagonal slices.
2
Place the parsnips into a large baking tray and drizzle with olive oil. Roast for 25-30 minutes until golden and crispy.
3
Prepare the rest of your ingredients. Peel and grate the carrots and finely chop the onion. Grate the fresh ginger and roughly chop the spinach.
4
In a large pan, heat a good glug of oil and fry the onions until they begin to soften. Then add the dry spices and ginger and fry for a further 2-3 minutes, ensuring you stir them regularly.
5
In the same pan, add in the lentils, 800ml of boiling water and the chopped tomatoes. Bring to the boil, then turn down the heat and allow to simmer for 20 minutes.
6
When the lentils have softened, add in the grated carrot and chopped spinach and simmer for another 5 minutes. Season to your taste and top with the crispy parsnips!
7
Serve with yoghurt and flatbreads and enjoy!
Recipe from Delicious Magazine