Spring Onion and Spinach Tartlets
Perfect for if you're having guests round!
What you'll need…
1 Bunch of spring onions
200g Spinach
320g ready-rolled puff pastry
280g light cream cheese
1 Garlic clove
1 Bunch fresh parsley
Juice of 1 lemon
Glug of olive oil
A few rocket leaves and some grated parmesan, to serve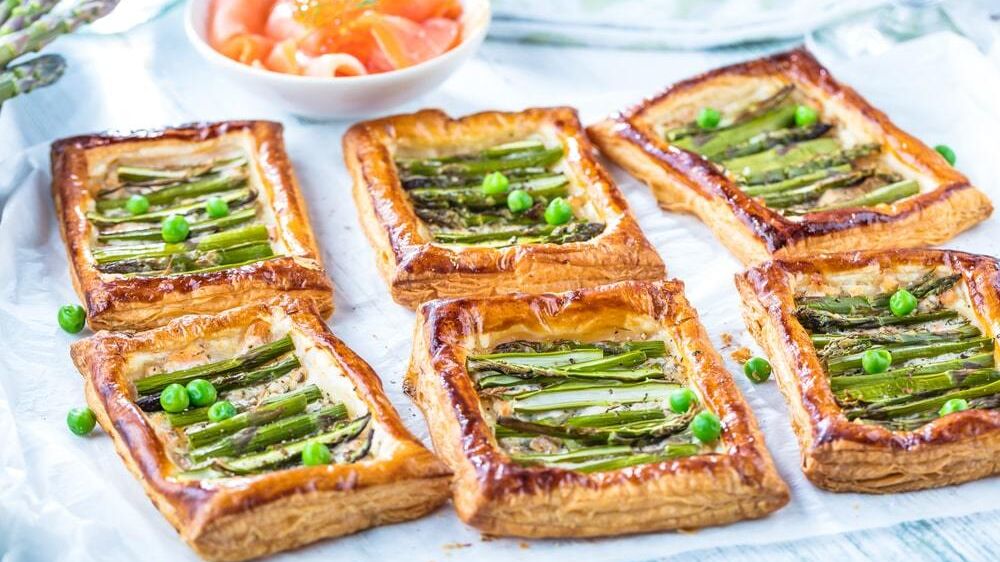 The method
1
Heat your oven to 180°C. Unroll the pastry onto a lined baking sheet. Cut the pastry into 4 equal rectangles. Score a 1cm border inside each pastry rectangle. Prick the centres with a fork.
2
Bake the pastry for 20 minutes until golden and crisp.
3
Meanwhile, boil a kettle and put the spinach into a colander. Pour over the hot water, then rinse with cold water. Using a tea towel squeeze out as much excess water as possible.
4
Put the spinach into a blender with the cream cheese, garlic clove, parsley and the lemon juice. Whizz until smooth. Taste and season with salt and pepper.
5
Heat some olive oil in a pan, and trim the spring onions. Fry the spring onions until softened.

6
Once the pastry has slightly cooled, spread over the spinach mixture, then top with the spring onions.
7
Finish with some rocket and parmesan if you fancy and enjoy!
Recipe from Delicious.