What you'll need…
150g Kale
1 Garlic clove
1 Sprig fresh rosemary
Olive oil
1/2 Dried red chilli
400g tin of cannellini beans
40g breadcrumbs
350g gnocchi
30g créme fraîche
20g Parmesan cheese
Extra virgin olive oil
Salad leaves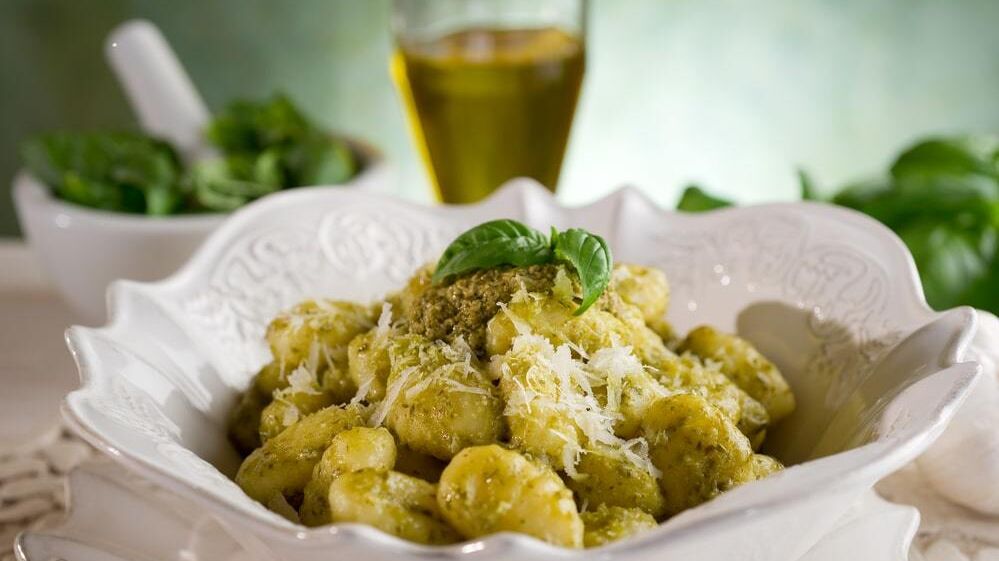 The method
1
Bring a large pot of water to the boil.
2
Peel and finely chop the garlic, then remove the leaves from the rosemary stem, chop finely. Remove the kale leaves from the tough stems and roughly chop.
3
Add 1 tablespoon of olive oil to a pan over a medium heat. Add the garlic, crumble in the chilli - fry until lightly golden.
4
Drain the beans and add to the pan with 150ml of water. Season well. Bring to the boil then crush the beans in the pan with a wooden spoon. Add créme fraîche and kale. Add a splash of water to wilt the kale, then cover with a lid and remove from the heat.
5
Heat 1 tablespoon of olive oil in a medium frying pan over medium heat. Add rosemary and breadcrumbs, then fry for 2 to 3 minutes, or until golden, stirring regularly. Season well to your liking.
6
Add the gnocchi to the boiling water and cook until it floats, then drain, but reserve a mug full of the water.
7
The sauce should look quite wet, as the beans and gnocchi will continue to absorb a lot of liquid. Finely grate the Parmesan and stir half through the gnocchi.
8
Squeeze some lemon juice into a bowl, add 1 tablespoon of extra virgin olive oil and season. Toss the salad in this dressing.
9
Divide the gnocchi between plates, scatter with the breadcrumbs and remaining parmesan. Serve with lemon in wedges and the salad piled on top. Enjoy!
Recipe from Jamie Oliver