What you'll need…
For the Filling:
450g Apples
50g Brown Sugar
1 Tablespoon plain flour
1 Pinch ground cinnamon
For the Topping:
300g Plain Flour
Pinch of Salt
175g Brown sugar
200g Unsalted butter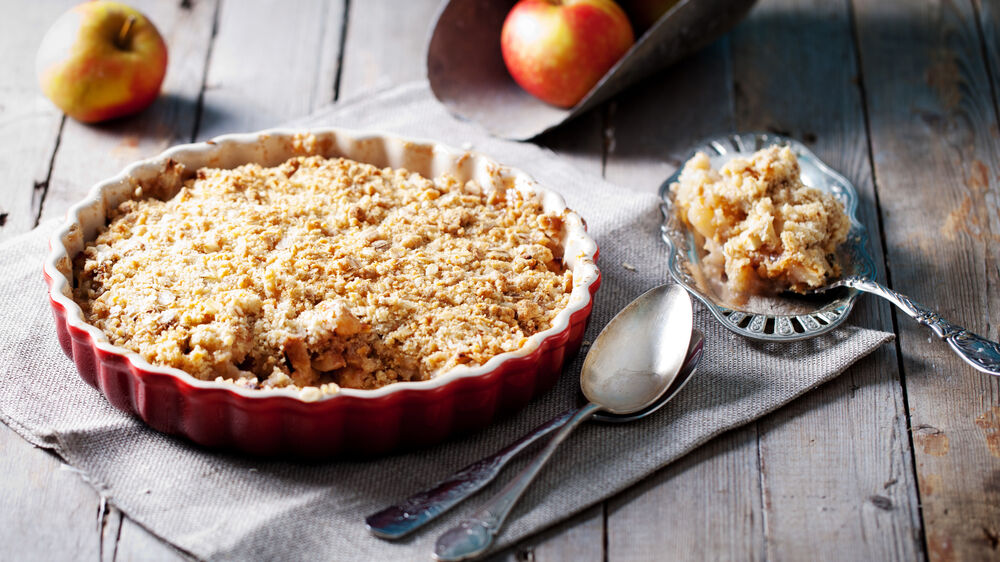 The method
1
Preheat your oven to 180°C.
2
Start by making the crumble first. In a large bowl, mix together the flour, sugar and salt. Take a few cubes of butter at a time and rub into the flour mixture. Keep rubbing until the consistency resembles bread crumbs.
3
For the filling, prepare your apples by peeling, coring and cutting into 1cm pieces.
4
Place the apples in a large bowl and sprinkle over the sugar, flour and cinnamon. Ensure each piece is coated well.
5
Grease a 24cm ovenproof dish and spoon the apples into the dish ensuring they are equally distributed. Then sprinkle the crumble mixture on top.
6
Place in the oven for 40-45 minutes until the crumble is golden and bubbling.
7
Serve with ice cream or custard and enjoy!
Recipe from BBC