Courgette & Feta Frittata
What you'll need…
3 Courgettes
2 Garlic cloves
400g Tomatoes
8 Medium free range eggs
Handful fresh dill
100g Feta
3 Tablespoons olive oil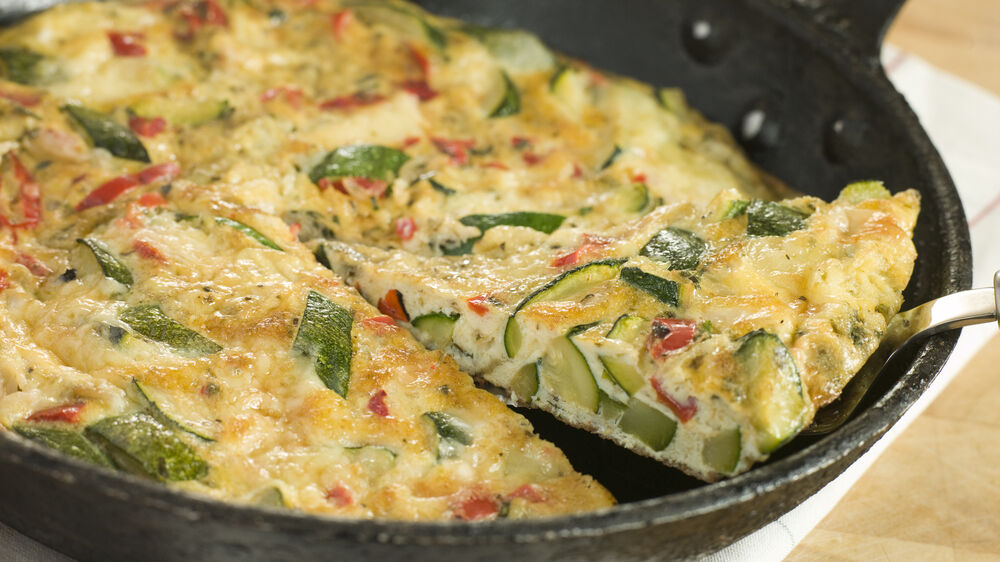 The method
1
Thinly slice the courgette into rounds, crush the garlic & chop the tomatoes and dill.
2
Heat the grill to medium & heat 2 tablespoons of olive oil in a frying pan over a medium heat. Add the courgettes to the hot pan and cook, turning occasionally, for 4-5 minutes until lightly golden. Stir in the garlic and chopped tomatoes and cook for 2-3 minutes.
3
Beat the eggs together in a large bowl with some salt and pepper. Add the dill, courgette & tomatoes.
4
Add the remaining olive oil to the frying pan and, when hot, pour in the courgette and egg mixture, then crumble the feta over the top. Reduce the heat to low and cook gently for 8-10 minutes or until the frittata is set and golden underneath and only the top is still runny.
5
Put the pan under the grill for about 2 minutes or until the top is puffy, golden brown and set.
6
Slide the frittata out of the pan onto a board and cut into wedges. Serve warm or cold. Enjoy!
Recipe from Delicious.