Creamy Mushroom Soup
Perfect for those cold autumnal days
What you'll need…
300g Mushrooms
1 Onion
1 Celery stick
2 Garlic cloves
A few sprigs of flat leaf parsley
A few sprigs of fresh thyme
Olive oil
75ml stock
40ml Single cream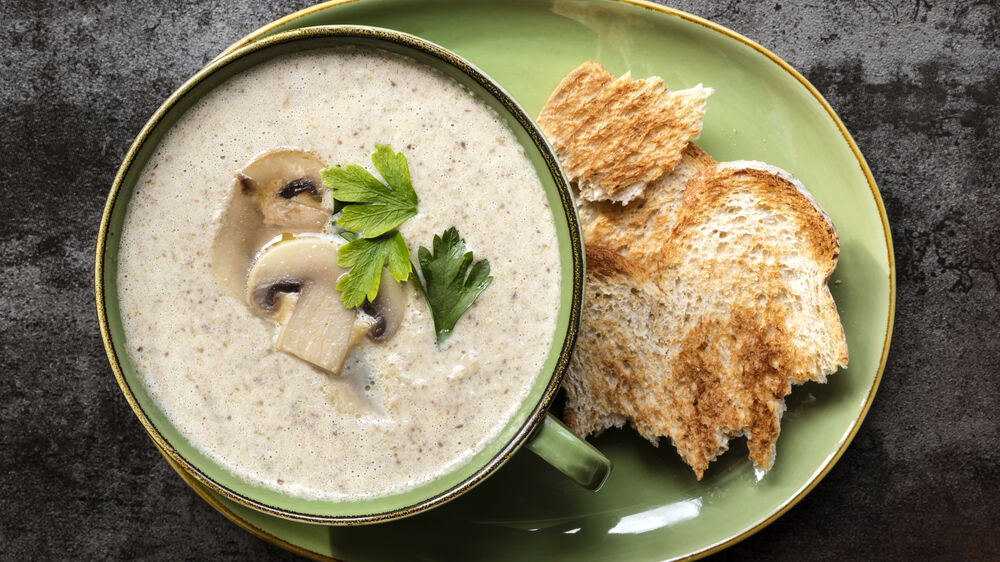 The method
1
Begin by preparing your ingredients. Finely slice the mushrooms. Then chop your onion, garlic, and celery.
2
Pick the parsley from the stalk and finely chop the stalk, then remove the thyme leaves from the stalk.
3
Heat some olive oil in a pan and add in the onion, garlic, celery, parsley stalks, thyme leaves and mushrooms. Put a lid on until they begin to soften.
4
Pour the stock into the pan and bring to a boil, then turn down the heat and allow to simmer for 15 minutes. Season to taste.
5
Blend the mixture using a food processor or hand blender until smooth.
6
Pour in the cream, heat through and then turn off the heat. Serve with the chopped parsley leaves and crusty bread. Enjoy!
Recipe from Jamie Oliver