Spring Onion Bhajis
With mint and coriander chutney
What you'll need…
250g spring onions
160g gram flour
25g plain flour
1 teaspoon turmeric
1 teaspoon cumin
1 teaspoon coriander
2 teaspoons black mustard seeds
½ teaspoon sea salt, plus extra to serve
250ml Lager
2 Shallots
Vegetable oil (for deep frying)
A small bunch Mint, leaves picked
A small bunch coriander, chopped
1 Green chilli
Thumb sized piece of ginger
Pinch of cumin
Juice of 1 lemon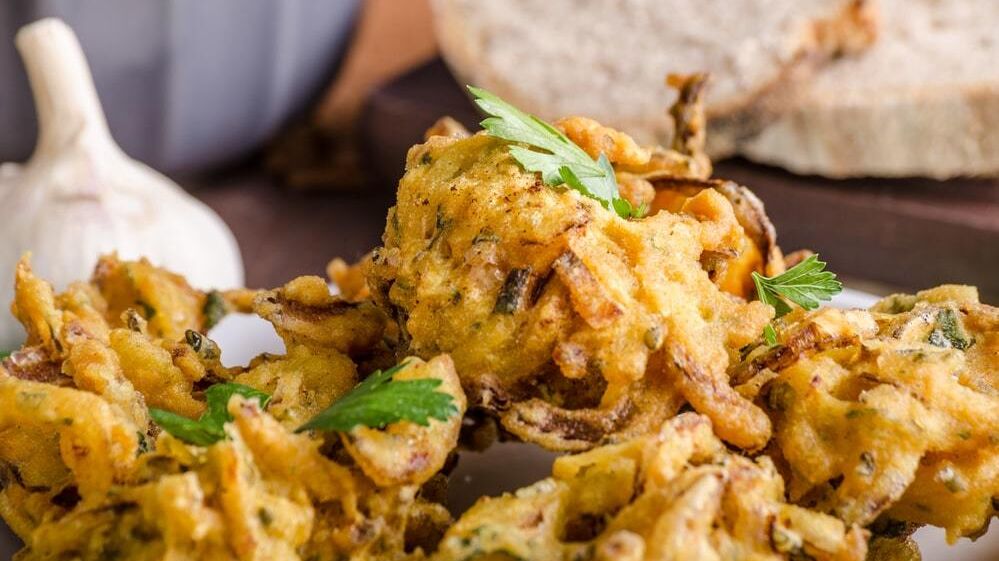 The method
1
Finely slice your spring onions at and angle and finely slice the shallots.
2
Put the gram flour, plain flour, spices and salt into a large bowl, and slowly whisk in the lager, until a batter forms. Stir in the spring onions and shallots.
3
To make the chutney, put the mint, coriander, green chilli, ginger, cumin and lemon juice into a blender. Blitz until smooth, add a splash of water if needed.
4
Fill a pan no more than 1/3 full with oil and heat until 180°C or until a cube of bread browns in 30 seconds.
5
Take a heaped tablespoon of the spring onion batter and carefully drop into the oil. Fry for 3-4 minutes, in batches, or until crisp and brown.
6
Drain on kitchen paper, season with sea salt and keep warm in a low oven while you fry the rest. Serve with the chutney for dipping. Enjoy!
Recipe from Olive