What you'll need…
1 Pumpkin
500g shortcrust pastry
Cinnamon
150ml Single cream
150g Light muscovado sugar
1/4 nutmeg (grated)
Pinch of ground ginger
3 Eggs
30g Melted butter
150ml Double cream
3 Tablespoons maple syrup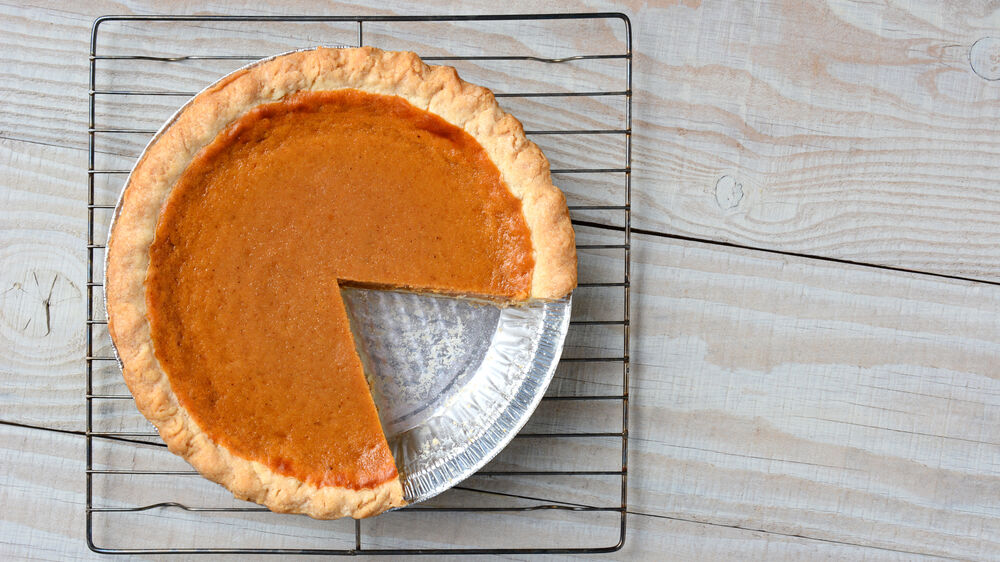 The method
1
Roll out the pastry and line a 20cm round tart tin, trimming the edges (keep the excess pastry for decoration). Sprinkle the cinnamon onto the pastry. Chill for 30 minutes.
2
Peel and chop your pumpkin into chunks. Then put the pumpkin, single cream, sugar, nutmeg and ginger in a saucepan and bring to a simmer. Cook gently with the lid half on for about 20 minutes, or until the pumpkin is tender, then purée the lot and cool the mixture until warm.
3
Heat the oven to 200°C. Line the tart case with baking paper or foil and fill with baking beans, then bake the pastry blind for 15 minutes. Remove the paper and beans and bake for a further 5 minutes or until the base is dry and cooked. Turn the oven down to 180°C.
4
Beat the eggs and butter into the purée and pour it into the case (you might have a bit of mix left over depending on the depth of your case). Cut pastry shapes out of the extra pastry, if you like and use them to decorate the edges of the tart, Don't put them in the centre or they will sink. Bake for 30 minutes and then check the tart, it should have a slight wobble in the centre, Cook for another 10 minutes if it's too runny.
5
Beat the double cream until thick and then beat in the maple syrup. Serve with the pie, enjoy!
Recipe from Olive