Beetroot Risotto
The most colourful risotto you will ever make!
What you'll need…
300g Beetroot
2 Tablespoons Olive oil
1 Onion
1 Garlic Clove
175g Risotto rice
100ml White wine
600ml Vegetable stock
50g Parmesan
1/2 Lemon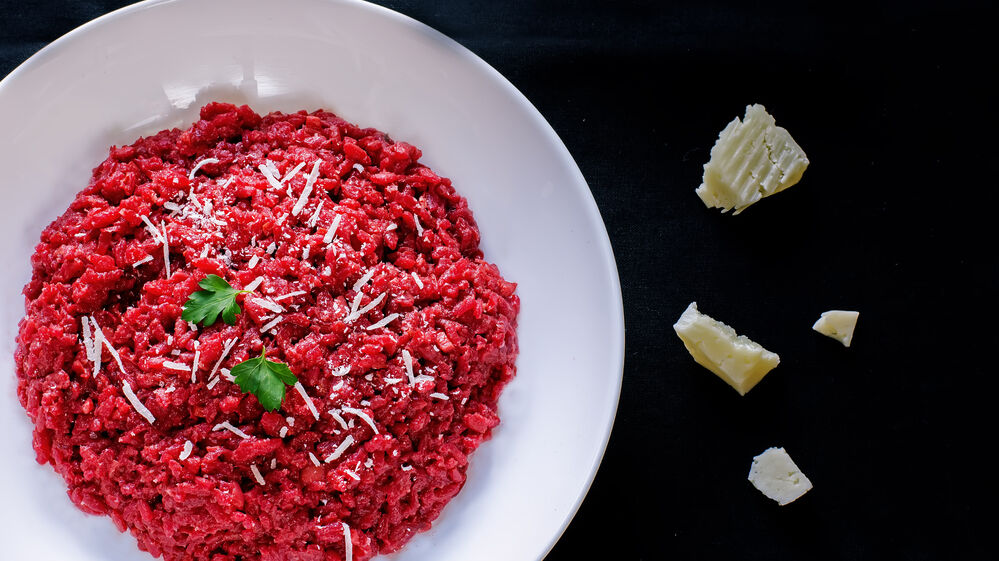 The method
1
Begin by prepping your ingredients. Roughly grate the raw beetroot and set aside. Finely chop your onion and garlic and grate your parmesan. Zest and juice half a lemon.
2
Heat the oil in a pan and fry your onions and beetroot, cook over a low heat for 15 minutes. Add the garlic in for the final minute of cooking.
3
Add in your risotto rice and fry for one minute, then add in the wine and bring to a simmer.
4
Add in half of the vegetable stock and stir until it is absorbed. Slowly add in the rest of the stock, stirring as you go until the rice is al dente.
5
Stir through the parmesan and lemon juice and zest and season to your taste.
6
Finish with a small drizzle of olive oil and enjoy!
Recipe Inspired by BBC Good Food