Blueberry and Honey Crêpes
What you'll need…
300g Blueberries
3 Tablespoons honey
100g Plain flour
1 Egg
200-250ml Milk
1 Teaspoon sunflower oil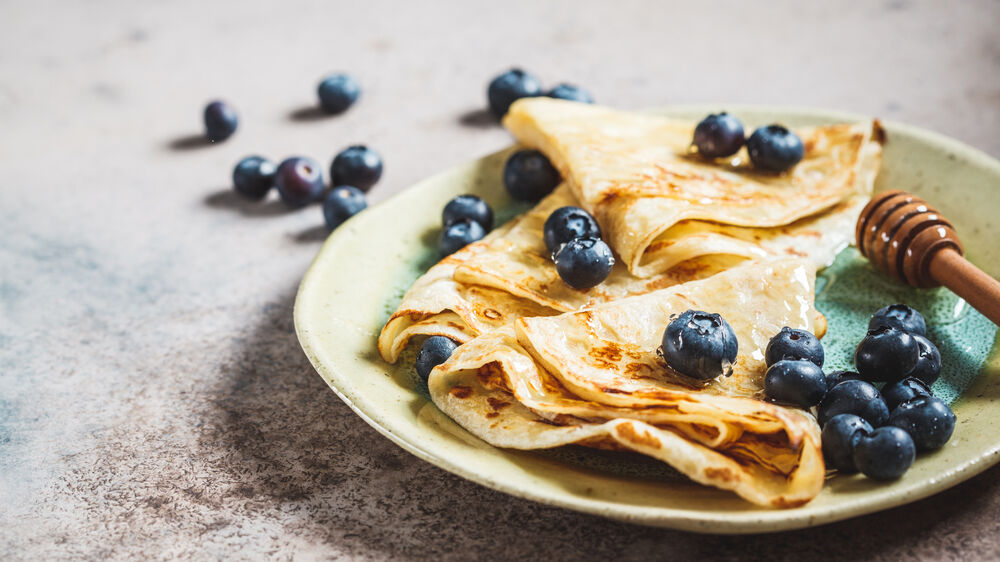 The method
1
Place the flour and egg into a bowl and most of the milk (reserve around 50ml), mix well. The consistency should be similar to single cream, so add more milk if the mixture is too thick. Stir in a teaspoon of oil and a pinch of salt.
2
Heat a non-stick frying pan and add a tiny amount of oil and distribute around the pan. Add a small amount of the batter and spread around the pan to make a thin crêpe.
3
Cook on one side for around 2 minutes and flip, then cook evenly on the other side. Place into an oven a low heat to keep warm whilst you make the rest. Repeat until you have used all the batter.
4
To make the filling, tip the blueberries into the pan and drizzle with the honey. Gently heat until the blueberries begin to soften.
5
To serve, place a couple of pancakes onto a plate and spoon over the blueberry mixture. Finish with a dollop of yoghurt and drizzle with extra honey. Enjoy!
Recipe from The Happy Foodie