What you'll need…
1.5kg Potatoes
1/4 Teaspoon turmeric
1 Tablespoon plain flour
1/2 Teaspoon cumin seeds
1/2 Teaspoon black mustard seeds
4 Cloves garlic
3cm Ginger
3 Green chillis
3 Teaspoons chilli powder
1 Teaspoon garam masala
1/2 Teaspoon ground coriander
1/2 Teaspoon ground cumin
1 Lemon
Handful of coriander
Salt
Vegetable oil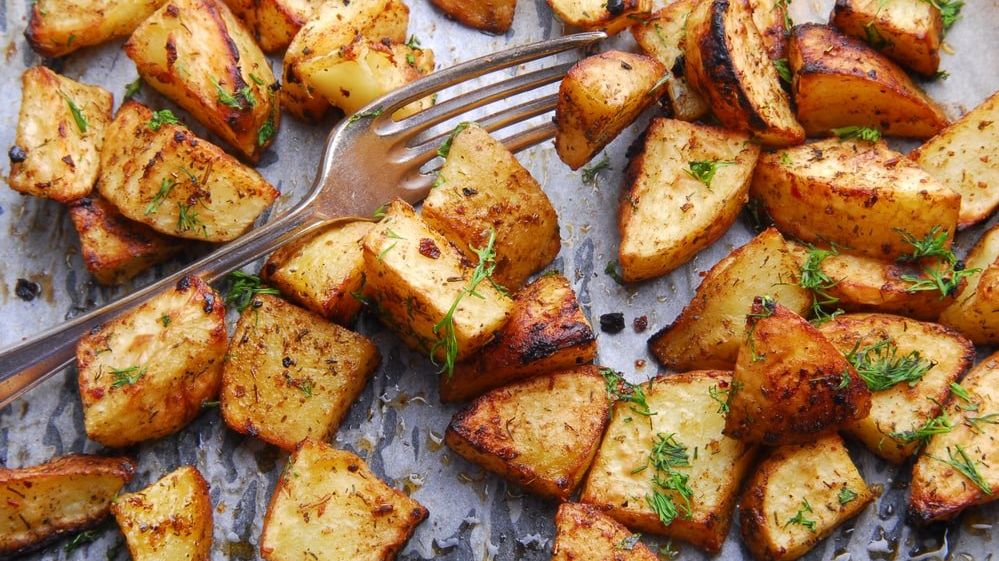 The method
1
Pre-heat your oven to 200°C. Add a glug of oil to a large roasting tray and place into the oven to warm up.
2
Peel and chop your potatoes and place them into a pot of boiling water. Boil for around 10 minutes or until fork tender.
3
In the meantime, peel your garlic and ginger and chop the chillis.
4
Drain the potatoes and coat with flour, turmeric, chilli powder, garam masala, coriander powder, cumin powder and a teaspoon of salt. Grate in the garlic and ginger and add in the chilli. Shake them around to fluff up the potatoes.
5
Add the cumin seeds and mustard seeds to the hot oil, stir to mix and then add in the potatoes.
6
Place into the oven for 40 minutes, turning half way through. In the meantime, chop the coriander.
7
Once crispy and golden, remove the potatoes from the oven and serve with the fresh coriander and squeeze over the juice of the lemon. Enjoy!
Recipe from MOB