Cauliflower Tacos
Add in any extra's you wish!
What you'll need…
1 Cauliflower
1 Tablespoon garlic granules
Olive oil
4 Tablespoons vegan hot sauce
1 Avocado
2 Limes
1 Jalepeño
1 Teaspoon cumin seeds
1 Celery stalk
1/4 Red cabbage
8 Whole wheat tortillas
Small bunch coriander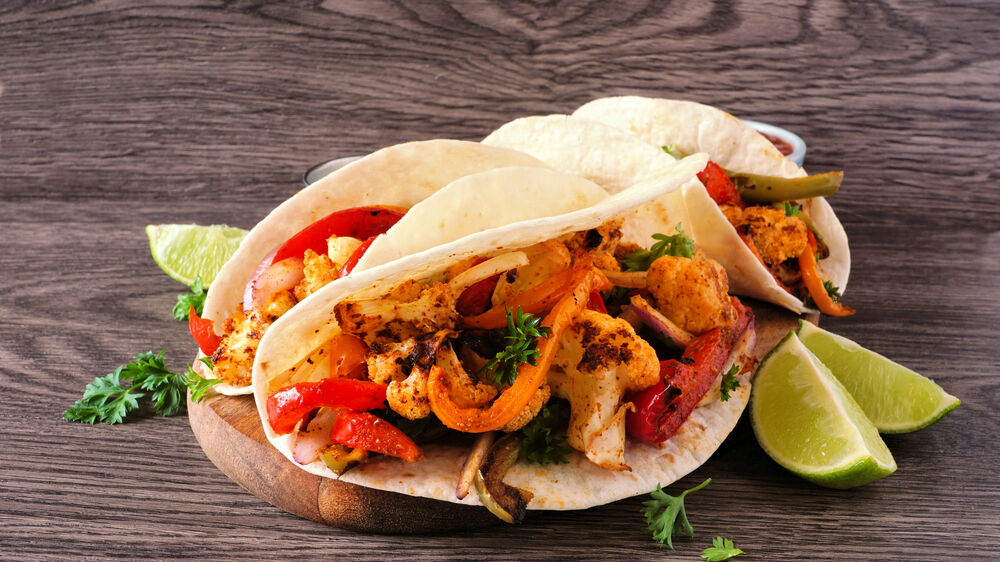 The method
1
Pre-heat your oven to 240°C. Begin by preparing your ingredients. Chop your cauliflower into florets, then peel and remove the stone from the avocado. Squeeze the juice from the 2 limes and then finely slice the jalapeño, red cabbage, celery and coriander.
2
Place the cauliflower florets into a large bowl and add in the olive oil and garlic granules, toss well. Then spread out into a large baking tray and place into the oven for 10-15 minutes until golden. Toss with the hot sauce ensuring each floret is well coated and return to the oven for another 5-10 minuets until crisp.
3
In the meantime, blend together the avocado and juice of 1 lime, season well. Add a splash of water if it is looking too thick.
4
Toss the jalapeño, cumin seeds, celery and cabbage with the remaining lime juice.
5
Warm the tortillas and then spoon the cauliflower onto the tacos along with some of the red cabbage mixture, avocado and coriander. Enjoy!
Recipe from Olive