Cavolo Nero and Apple Salad
What you'll need…
150g Cavolo Nero
3 Tablespoons extra virgin olive oil
2 Slices sourdough
60g blanched almonds
1 Apple
1 Celery stick
Handful mint leaves
3 Tablespoons extra virgin olive oil (for the dressing)
1 Lemon
1 Garlic clove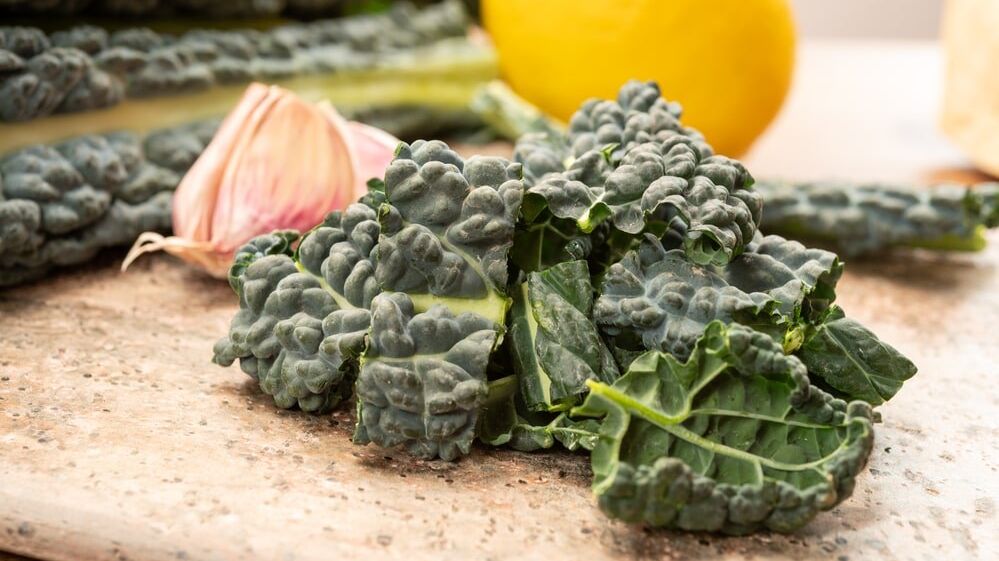 The method
1
Pre-heat your oven to 180°C, then prepare your ingredients. Remove the leaves of the Cavolo Nero from the tough stalks and roughly chop. Tare your sourdough into chunks, then prep your apple by coring and slicing finely. Finely slice your celery and roughly chop the mint leaves.
2
Place the Cavolo Nero into a large bowl and pour over 1.5 Tablespoons olive oil, season well, then massage the oil into the leaves.
3
In a separate bowl toss together the sourdough chunks with the remaining olive oil and salt. Place onto a baking tray and leave in the oven for 10 minutes or until golden. Add the almonds to the tray for the last 5 minutes.
4
Remove from the oven, then lightly crush the toasted bread and roughly chop the almonds, add to the bowl with the Cavolo Nero, followed by the apple, celery and mint.
5
To make the dressing, juice and zest your lemon and grate your clove of garlic. Combine the olive oil, lemon zest and juice, and garlic and mix well. Pour over the salad and toss to ensure it is well distributed. Enjoy!
Recipe from Delicious Magazine