Celeriac Stuffing
Perfect with Chicken, Turkey, or Squash as a vegetarian alternative!
What you'll need…
500g Celeriac
60ml Olive oil
1 1/2 Teaspoons cumin seeds (crushed)
1 Onion
3 Garlic cloves
70g Sourdough bread
5 Sage leaves
2 Green chillis
Zest of 1/2 lemon
100g Pitted prunes
20g Parsley leaves
100ml Vegetable stock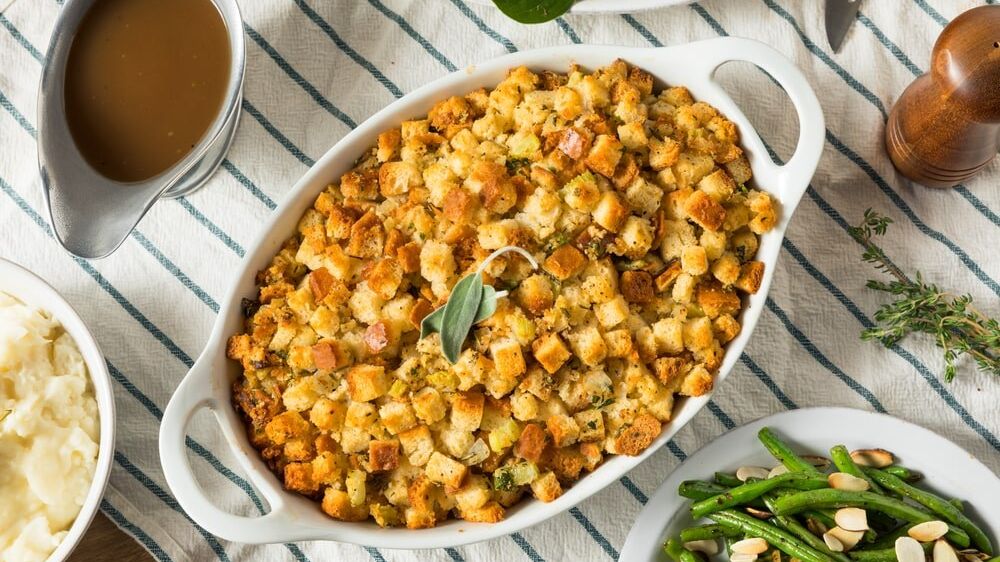 The method
1
Begin my preparing your ingredients. Clean your celeriac and remove the roots, then chop into 2cm cubes. Peel and finely slice your onion and garlic. Then cut your sourdough into 2cm pieces. De-seed and finely chop the chillis and then zest your Lemon (half). Finally, chop your prunes into quarters and roughly chop the parsley.
2
Pre-heat your oven to 200°C. Place the celeriac onto a large baking tray (lined with baking paper) and drizzle over 2 tablespoons of oil, half a teaspoon of cumin seeds and season to your liking.
3
Roast for 30-35 minutes, stirring once halfway through. Remove once the celeriac is golden and tender and place into a large bowl.
4
Increase the temperature of the oven to 210°C. Heat the remaining olive oil in a large pan and fry the onion and garlic until soft. Add in the bread, sage and remaining cumin seeds along with salt and pepper and fry for a few minutes until the bread becomes crispy.
5
Pour the bread mixture into the bowl of celeriac and mix well. Add in the chilli, lemon zest, prunes and parsley and season to your liking.
6
Transfer the mixture to a baking dish (20cmx20cm), pour over the vegetable stock and bake for 15-20 minutes until the top is golden and crispy.
7
Leave to cool for 5 minutes before serving. Enjoy!
Recipe from Yotam Ottolenghi