What you'll need…
1 Head of cauliflower
1 Onion
3 Cloves garlic
1 Tablespoon fresh ginger
1 Tablespoon olive oil
3 Tablespoons curry powder
2 Teaspoons cinnamon
2 Teaspoons cumin
2 Teaspoons sea salt
1 Can of chopped tomatoes
1 Can coconut milk
Chopped coriander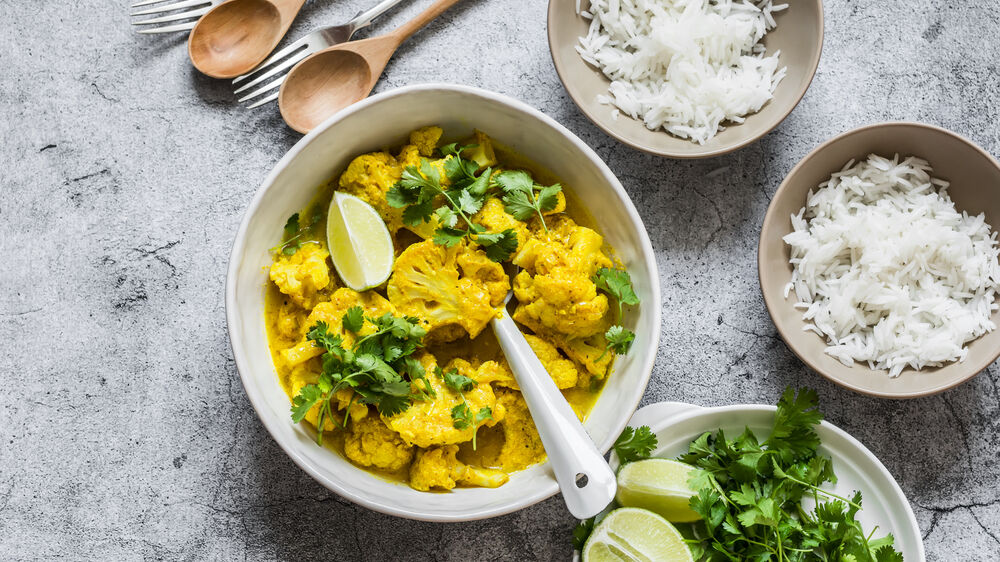 The method
1
Break your cauliflower into florets and finely chop your onion and garlic.
2
Heat the olive oil in a large pan and add in the onions, cook until softened and then add in the garlic and ginger. Cook until fragrant.
3
Stir in the curry powder, cinnamon, cumin, salt and tomatoes.
4
Pour in the coconut milk and bring to the boil, simmer for 5 minutes, stirring often.
5
Use a hand blender to blitz the sauce until smooth. Season to your taste and adjust the spices if necessary.
6
Add in the cauliflower florets and allow to simmer until al dente (around 15 minutes). Add in the chopped coriander. Serve with rice and naan and enjoy!
Recipe from The Modern Proper