Raspberry Crumble Muffins
Add white chocolate for some extra indulgence
What you'll need…
175g Raspberries
100g Unsalted butter
65g Caster sugar
65g Light brown soft sugar
2 Large eggs
125g Greek yoghurt
1 Tablespoon vanilla paste
5 Tablespoons milk
250g Self raising flour
1 Teaspoon baking powder
90g White chocolate chips (optional)
For the Crumble Topping:
3 Tablespoons plain flour
3 Tablespoons light brown soft sugar
50g Cold unsalted butter
50g Oats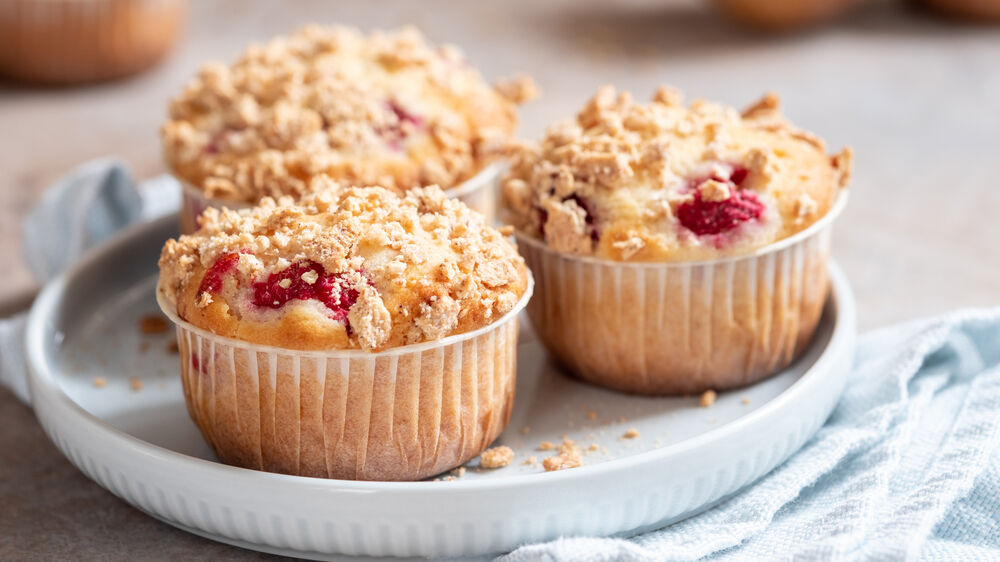 The method
1
Heat you oven to 200°C and line a muffin tin with paper cases.
2
Place all of the crumble topping ingredients into a bowl and rub together until it forms a crumbly texture.
3
For the muffin mix, beat the sugar and butter together until pale and fluffy. Then gradually mix in the eggs and then the yoghurt, vanilla and milk.
4
Slowly add in the flour and baking powder until it forms a smooth batter. Then carefully fold in the raspberries and chocolate chips (if using).
5
Fill each muffin case with the mixture and sprinkle some of the crumble mixture over the top. Bake until golden (20-30 minutes) and a knife comes out clean. Enjoy!
Recipe from BBC Good Food.