Crown Prince Squash and Cider Risotto
Perfect for those winter dinners
What you'll need…
500g Crown prince squash
Olive oil
1 Onion
1 Garlic clove
175g Risotto rice
250ml Cider
Few sprigs Thyme leaves
300ml Stock
75g Grates parmesan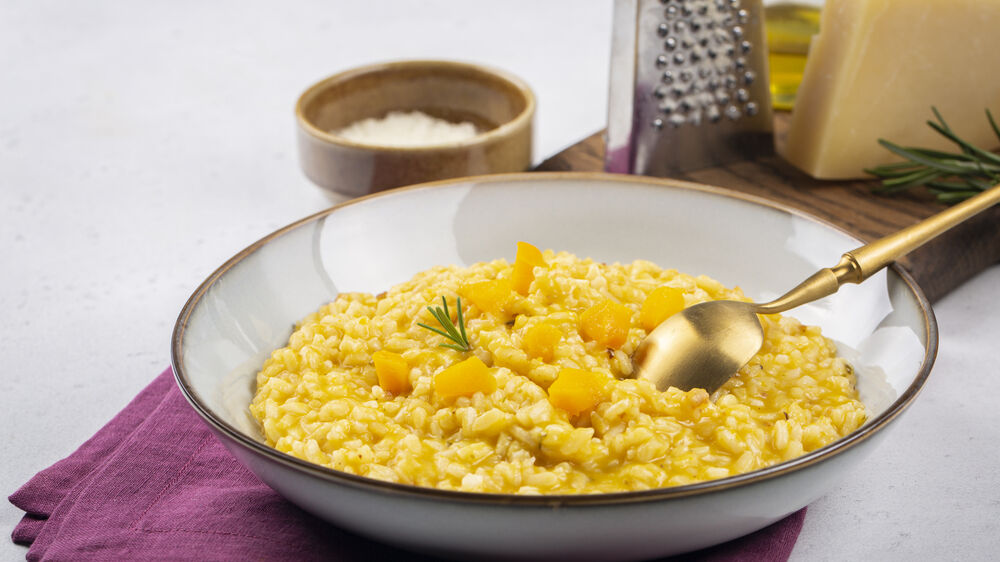 The method
1
Preheat your oven to 200˚C and then prepare your ingredients. Chop the squash in half and remove the seeds. Then peel and chop into chunks. Finely chop the onion and garlic.
2
Place the cubed squash onto a baking tray and drizzle with olive oil and season to your liking. Roast for 12-15 minutes until tender. Allow to cool and then mash.
3
Heat some olive oil in a pan and fry the onions for 3 minutes, then add in the garlic and fry for a few minutes. Pour in the rice and cook for 1 minute, ensuring it is coated in the oil.
4
Add one third of the cider and thyme leaves to the pan, stir until it is absorbed into the rice. Add the remaining cider into the stock. Gradually pour in the stock and mix until absorbed. Continue to cook until the rice is al dente. Season to taste.
5
Stir through the crushed squash and 3/4 of the parmesan. Serve and sprinkle with the remaining parmesan. Enjoy!
Recipe from Taste Buds