Honey-Garlic Cauliflower Bites
Crunchy and packed with flavour
What you'll need…
125g Plain flour
200g Panko breadcrumbs
3 Large eggs
1 Head of cauliflower
115g honey
80ml Soy sauce
2 Garlic cloves
Juice of 1 lime
1 Tablespoon sriracha
60ml Water
2 Teaspoons cornflour
Few chopped spring onions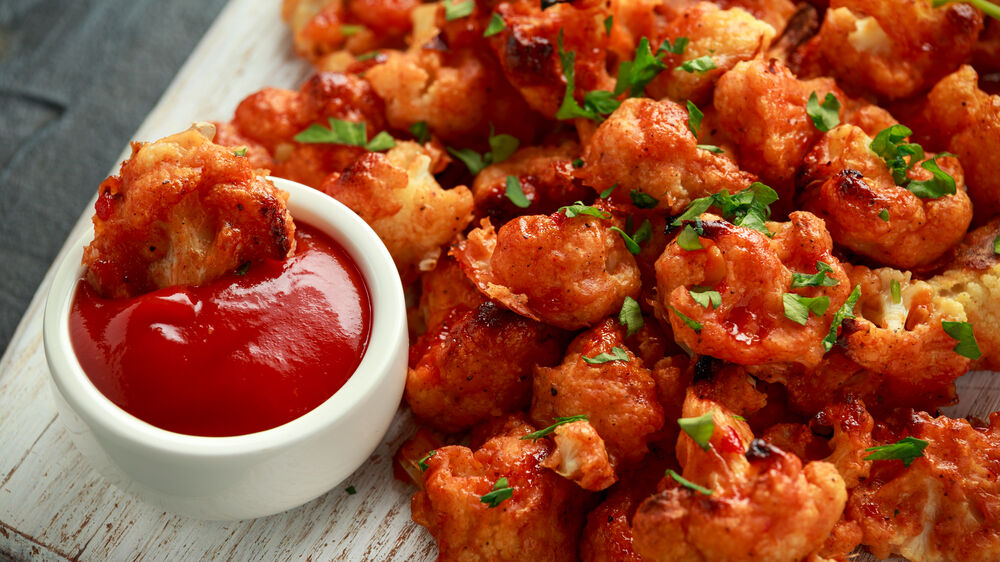 The method
1
Pre heat your oven to 200°C and chop your cauliflower into bite sized florets.
2
Line a baking tray with foil.
3
In a bowl combine the flour and cauliflower, ensuring they are well coated.
4
In a bowl add the panko breadcrumbs and in another bowl whisk 2 eggs and the water together. Dip the cauliflower into the beaten eggs and then into the breadcrumbs. Place onto the baking tray and season to your taste. Place into the oven for 20-25 minutes.
5
In the mean time make the sauce. Whisk together cornflour and water until dissolved. In a pan add in the soy sauce, honey, garlic, lime, and sriracha and cook over a medium heat. When it reaches boiling point turn down the heat and add in the cornflour mixture. Cook until the sauce thickens.
6
Coat the cauliflower in the sauce until evenly coated. Return to the oven for 2 minutes. Garnish with spring onions and enjoy!
Recipe inspired by Delish.