Pumpkin and Chickpea Curry
What you'll need…
1 Pumpkin
4cm Piece of ginger
1 Onion
4 Cloves of garlic
1 Red chilli
1 Bunch Fresh Coriander
Sunflower Oil
1 Teaspoon Mustard seeds
20 Curry leaves
1 Teaspoon Turmeric
1 x 400g tin chopped tomatoes
2 x 400g tin coconut milk
2 x 400g tin chickpeas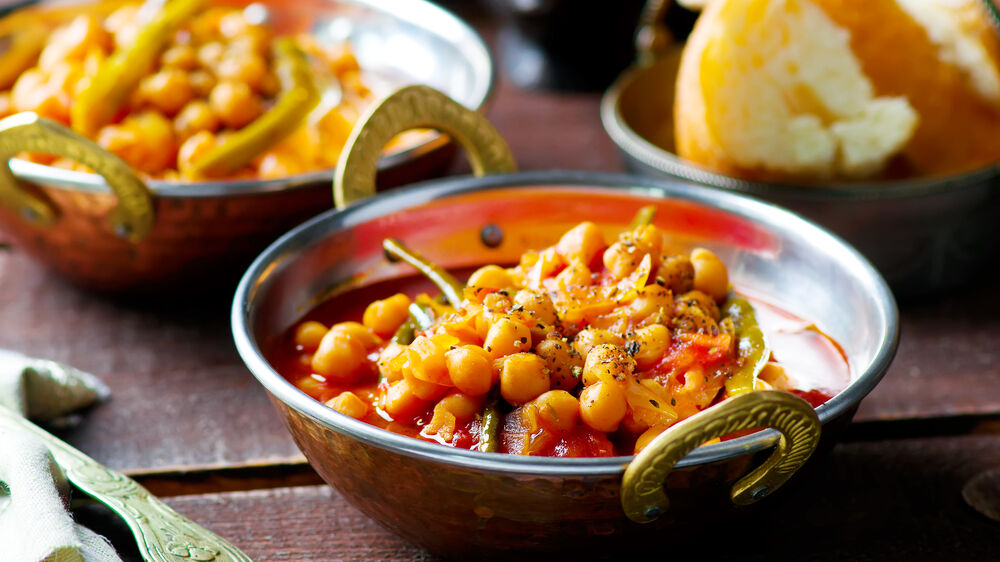 The method
1
Start by prepping your ingredients. Chop the pumpkin into 3cm chunks making sure the skin is removed. Then slice the ginger into thin stalks and chop the coriander. Finely chop the onion, garlic, and red chilli.
2
Heat a good amount of sunflower oil in a large pan, add in the ginger, onion, garlic and red chilli and reduce to a medium heat. Cook until golden, then add in the mustard seeds, curry leaves and coriander - fry until the curry leaves become crispy.
3
Add in the turmeric, tomatoes and coconut milk and bring to the boil, then add in the pumpkin chunks and chickpeas. Reduce to a low heat and cover with a lid, allow to simmer for 45 minutes.
4
Add in water if the sauce looks too dry. After 45 minutes, remove the lid and allow to cook for another 15 minutes until the sauce is nice and thick. Season to your liking. Finally, scatter coriander leaves over the top and serve with rice. Enjoy!
Recipe Inspired by Jamie Oliver