Rhubarb and Strawberry Pavlova
What you'll need…
400g Rhubarb
400g Strawberries
6 Large eggs
360g White caster sugar
White chocolate
1 Vanilla pod
50g White caster sugar (for the rhubarb)
300ml double cream
1 Tablespoon white caster sugar (for the cream)
1/2 Teaspoon vanilla extract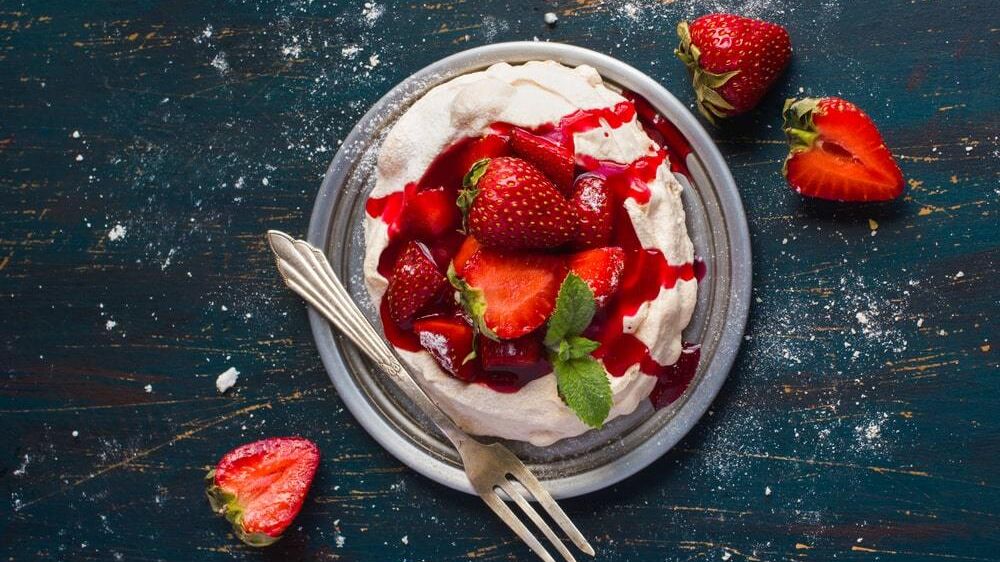 The method
1
To make the compote, chop the rhubarb into 2cm chunks, then hull and halve the strawberries. Add to a pan with a dash of water, the vanilla pod and 50g white caster sugar, cook over a low heat until soft, allow to cool.
2
Pre-heat your oven to 150°C and line a baking tray with grease proof paper
3
Separate the egg whites from the yolks and place the egg whites into a pan with the sugar. Gently heat until the sugar dissolves, make sure to constantly stir. Once dissolved, pour into a mixing bowl and whisk until you have soft peaks.
4
Spoon the meringue mixture onto the greaseproof paper into 8 mini pavlovas. Place in the oven for 40-45 minutes until crunchy on the outside and soft on the inside.
5
To make the vanilla cream, whisk together the cream, 1 tablespoon of caster sugar and vanilla extract until it has increased in volume and is holding its shape.
6
Assemble the pavlovas by dolloping the cream on top of the meringue, then the compote and then a shaving of white chocolate. Enjoy!
Recipe from Jamie Oliver