What you'll need…
500g Potatoes
2 Tablespoons Sunflower Oil
1 Onion
1 Red Chilli
2 Teaspoons Cumin Seeds
2 Teaspoons Black Mustard Seeds
1 Teaspoon Ground Tumeric
Ginger (a thumb sized piece)
3 Garlic Cloves
400g Spinach
Juice of 1/2 Lemon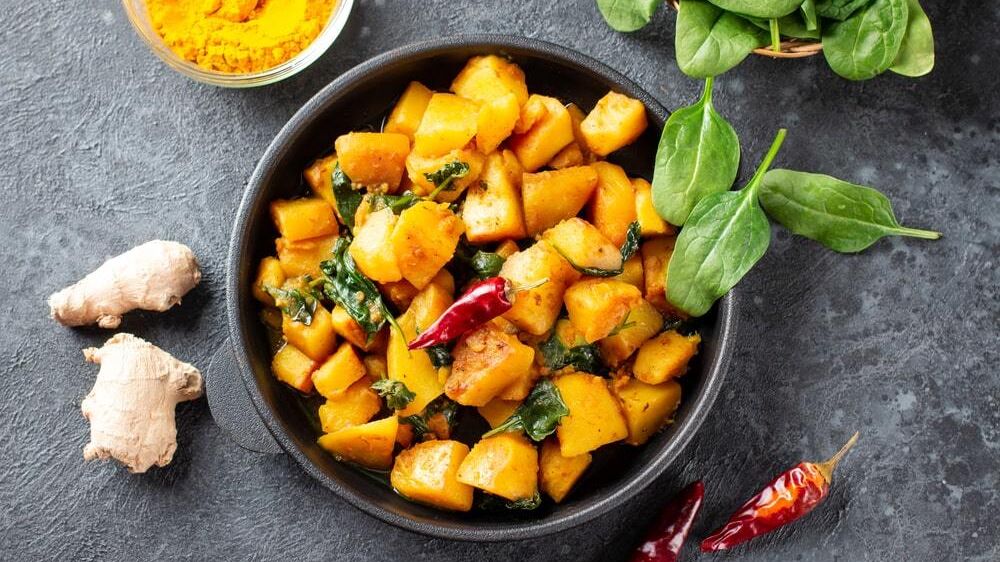 The method
1
Peel and chop your potatoes into chunks. Boil in salted water for 10-15 minutes and then drain.
2
Whilst the potatoes are cooking, chop your onion, chilli, and shred the ginger.
3
Heat the oil over a medium heat and fry the onions until they begin to caramelise, then add the chilli and spices. Cook for a further 5 minutes and then add the ginger and garlic and fry for another 2 minutes.
4
Add in the spinach along with 100ml of water and the cooked potatoes. Simmer for 5 minutes until the water has evaporated and the spinach has wilted.
5
Season to your taste and add in the lemon juice. Enjoy!
Recipe from Olive Magazine.