Whole roasted cauliflower with cheddar and spring onion sauce
A fantastic vegetarian main course
What you'll need…
1 Large cauliflower
300ml Dry white wine
2 Bay leaves
1 Tablespoon black peppercorns
1 Garlic bulb
1 Egg
Parmesan
Olive Oil
1 Onion
50ml Dry white wine
300g Grated mature cheddar
125ml Whipping cream
1 Green chilli
2 Spring onions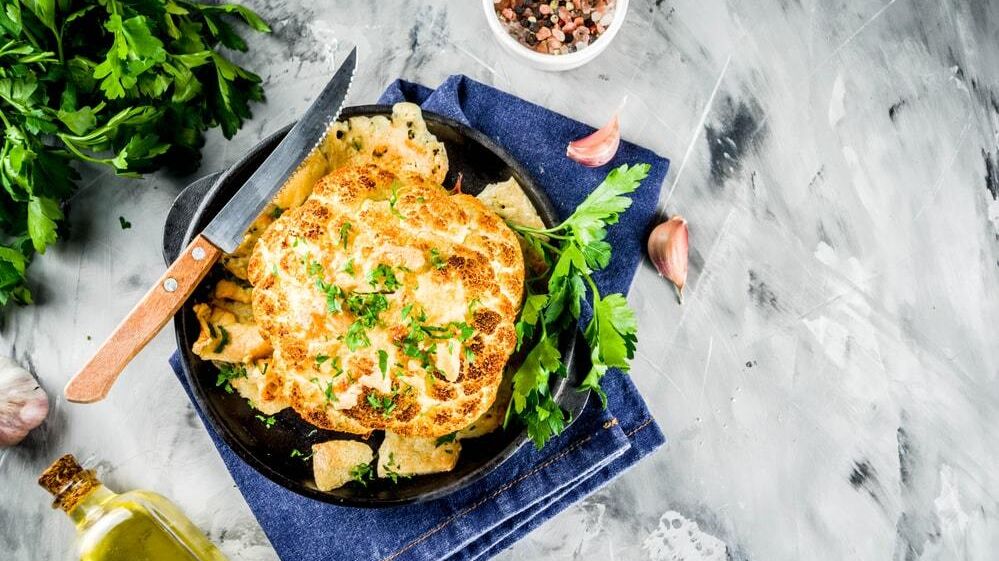 The method
1
Begin by preparing your ingredients. Trim the leaves off the cauliflower, cut the garlic bulb in half (horizontally), then lightly beat and season the egg. Finely chop your onion and chilli then finely slice the spring onions.
2
Preheat your oven to 200°C. Put the cauliflower in a large pan with the 300ml wine, bay leaves, peppercorns and garlic halves.
3
Pour over boiling water to just cover the cauliflower – don't worry if it floats, simmer on the hob for 20 minutes, turning halfway through. Carefully lift the cauliflower out of the poaching liquid into a colander and leave for 10 minutes to steam dry.
4
Put the cauliflower into a large roasting tin and brush over the beaten egg. Grate a generous amount of parmesan over the top so it covers the top and sides of the cauliflower. Roast for 15-20 minutes until golden.
5
Next, make the sauce. Heat a splash of olive oil in a saucepan, add the onion and cook until translucent and soft. Add the 50ml wine and bubble until evaporated by two thirds. Turn the heat down to its lowest setting, then add the cheese and cream. Stir constantly until the cheese melts to a smooth sauce.
6
Stir through the chilli and spring onions, season, then pour into a warmed jug.
7
Once the cauliflower is roasted, remove from the oven and transfer to a serving platter. Then pour over two thirds of the sauce before carving. Serve the remaining sauce on the side. Enjoy!
Recipe from Delicious Magazine