Spinach and Pumpkin Salad
What you'll need…
1 Pumpkin
100g Spinach (or other salad leaves)
5 Cloves garlic
Juice of 1 Lemon
80ml Olive oil
80g Pine nuts
100g Feta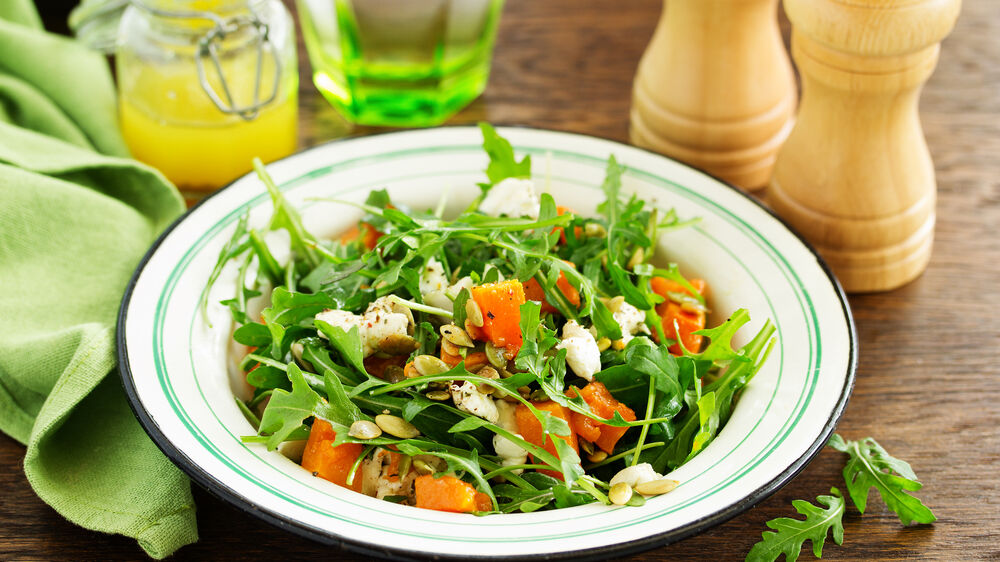 The method
1
Pre-heat your oven to 220°C. Prep your pumpkin by peeling and chopping into 2cm chunks.
2
Place the pumpkin and garlic cloves onto a baking tray and drizzle with 2 tablespoons of olive oil. Place in the oven for 20 minutes then remove the garlic cloves. Then place the pumpkin back into the oven for a further 20 minutes.
3
For the dressing, peel the roasted garlic cloves and place into a food processor. Add the lemon juice and remaining olive oil and blitz until smooth. Season to your liking!
4
To assemble the salad, toss together the pumpkin, spinach and pine nuts, then crumble over the feta and drizzle over the dressing. Toss to combine. Enjoy!
Recipe from BBC Good Food