Spinach Pancakes with Smoked Salmon
What you'll need…
100g Spinach
Juice of 1/2 lemon
6 Tablespoons sour cream (plus extra to serve)
Handful of chopped dill
250ml Whole milk
2 Eggs
4 Tablespoons melted butter
175g Plain flour
1 Teaspoon baking powder
Olive oil
150g Smoked salmon
Lemon wedges (to serve)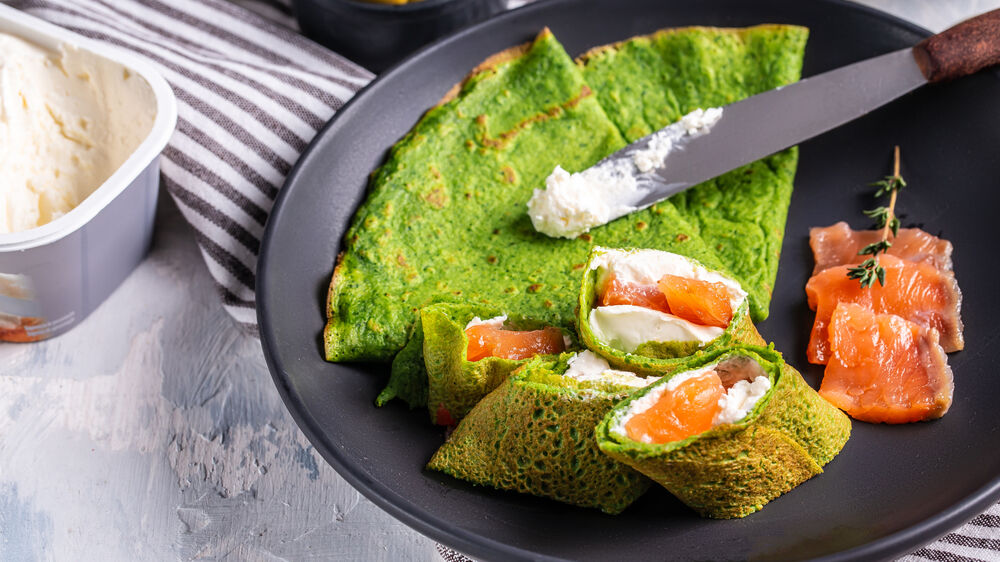 The method
1
Mix together the sour cream, lemon juice and dill and season to your liking.
2
Boil the kettle and place the spinach into a colander. Once boiled, pour the water over the spinach, allow to cool and then squeeze out any excess water. Roughly chop.
3
Place the eggs, milk and butter in a bowl and mix well. Add the spinach and use a stick blender until you have a smooth purée. In a separate bowl, combine the flour, salt and baking powder. Slowly pour the wet mixture into the dry mixture and mix well to combine.
4
Heat a non stick frying pan over a medium heat with a little olive oil. Ladle a small amount of the mixture into the pan, when bubbles begin to form, flip the pancake and cook on the other side. Keep warm in a low oven, repeat for the rest of the mixture.
5
Finish by layering the pancakes with the sour cream, smoked salmon and some more dill. Enjoy!
Recipe from Olive