Pear Tarte Tatin
Best enjoyed with vanilla ice cream
What you'll need…
4 Pears (slightly under ripe work best)
150g Caster sugar
50g Butter
500g Puff pastry
Plain flour
1 Egg
Ice cream to serve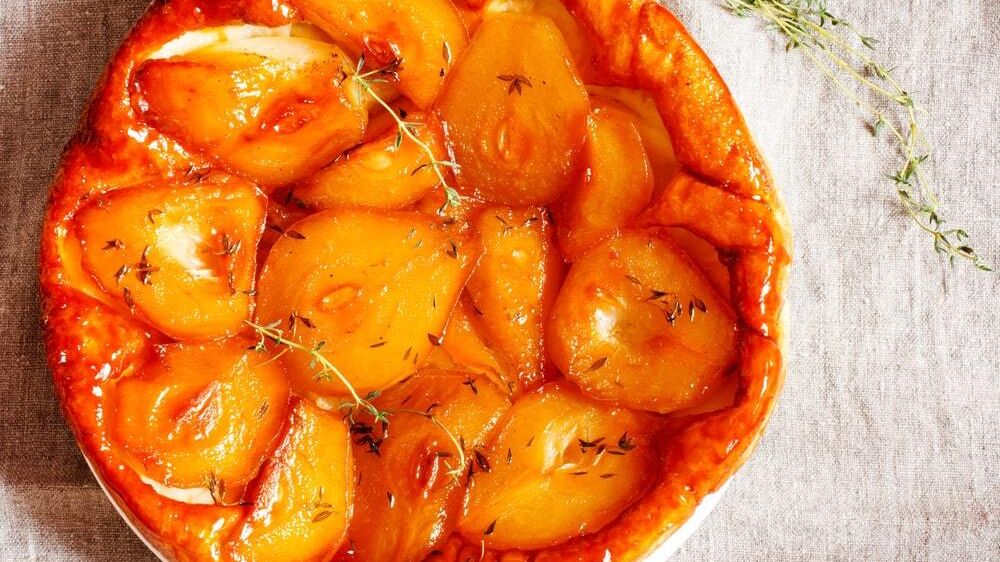 The method
1
Heat your oven to 180°C. Prep your pears by cutting them in half, removing the cores and then slice into quarters.
2
Tip the sugar into an oven proof frying pan along with 3 tablespoons of water. Heat gently, swirling the water as the sugar dissolves.
3
Slightly turn up the heat until the caramel becomes more golden (the shade of a copper penny). Then carefully add in the butter and stir until it has melted and combined.
4
Carefully add in the pear pieces and turn down the heat. Spoon the caramel over the pear pieces, make sure you keep turning them for around 5 minutes until they're well coated and golden. Remove the pan from the heat.
5
Neatly arrange the pears in the pan (flat side up).
6
Roll out the puff pastry onto a floured surface into a circle approximately 0.5cm thick and slightly larger than the frying pan.
7
Gently lift the puff pastry over the frying pan and tuck in the edges so that it lies snuggly over the pears. Use a knife to prick 6-9 holes in the pastry.
8
Brush the pastry with a beaten egg and place into the oven for 25 minutes until the pastry is golden. Remove from the oven and allow to rest for 10 minutes. Place a large serving plate over the pan and carefully flip the tart over onto the plate. Serve with ice cream and enjoy!
Recipe inspired by Olive Magazine