Spring Greens and Meatball Soup
What you'll need…
3 Tablespoons olive oil
2 Onions
1 Garlic clove
1-2 Red chillis
1 Litre chicken stock
200g Spring greens
3 Tablespoons orzo
50g Parmesan
1 Crustless slice white bread, drizzled with 2 tablespoons milk
250g Pork mince
1 Egg yolk
2 Tablespoons chopped parsley
1/2 Crushed garlic clove
2 Tablespoons grated parmesan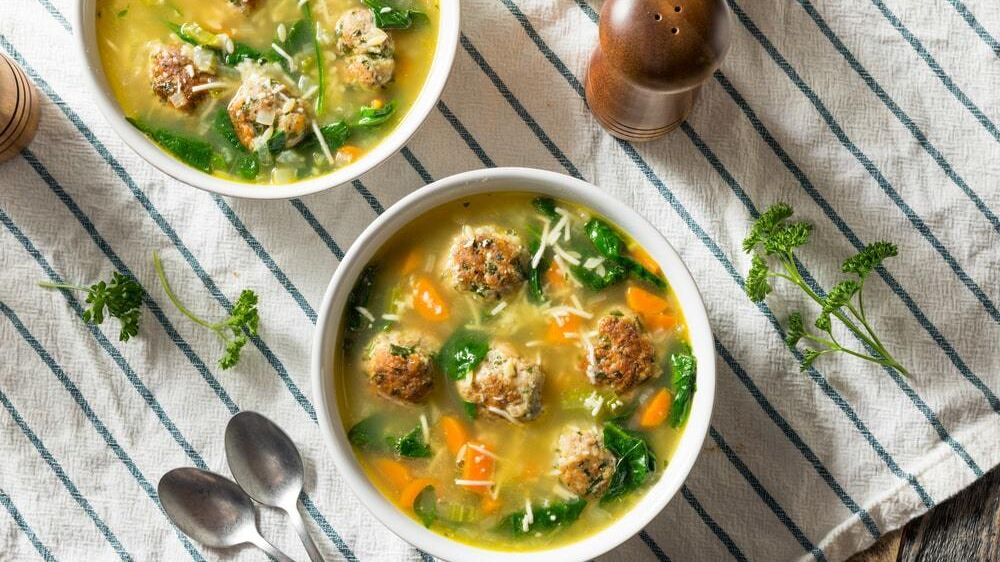 The method
1
To make the meatballs, break up the soaked bread into a mixing bowl, then add in the mince, egg yolk, parsley, crushed garlic and parmesan. Season well and mix until combined.
2
Roll the mixture into 24 marble-sized balls and fry the meatballs all over in a large non-stick pan with 1 tablespoon of olive oil. Scoop onto a plate once cooked through.
3
Heat 2 tablespoons of olive oil in the same pan. Fry the onion, with a good pinch of salt, for 5-10 minutes or until golden brown.
4
Stir in the garlic and chilli, and cook for 2 minutes. Add the stock, spring greens, orzo and meatballs, and simmer for 15-20 minutes or until the orzo and greens are cooked. Sprinkle over the parmesan to serve. Enjoy!
Recipe from Olive