What's New
Trip to France
On the hunt for a carrot washer.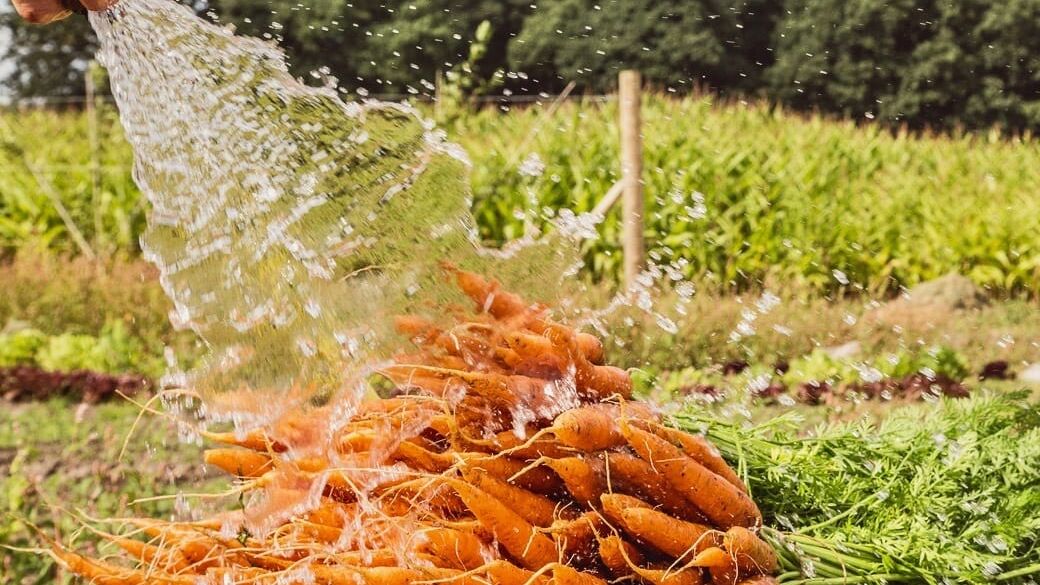 We have been washing your carrots by hand for 9 and a half years and we have finally come to the decision that we could do with a little washer to help our backs!
So after some extensive searching online for the past couple of years and a failed attempt at using an old recycled paper washer that I found at the scrap yard in Northwich, we decided that a small, purpose-built machine from France would be the solution. So a £27 airfare return trip to Nantes last Monday was a greatly received mini excursion.
We visited a little factory that makes mini washers for small veg farmers all over the world. I could not believe how many they make. In the UK, only commercial farmers seem to thrive with their giant machines that can fill a building, with polishers that take a layer of skin off so the veg looks shiny - and using recycled water with chemicals in!... Hence the soapy taste of supermarket carrots.
It was a pleasant surprise to see tools for little farms like us that only use fresh water with no chemicals and only do a light wash to get most of the dirt off and retain the flavour of the carrot- probably even more gentle than our hand washing.
The best part of the trip was visiting a small veg farmer in the Vendee who grows almost exactly the same produce as Groobarbs in the same quantities. My enthusiasm was high as I have not met anyone who produces veg boxes like us on our scale.
It is really interesting talking to them as I have to say the French general public are much more aware of what are good tasting legumes! For us and everyone who gets a veg box it feels like a lonely job in the UK when you talk about the taste of things or as the French call le terroir. They are dedicated to making sure their produce tastes great; I am glad to see it & it has inspired me to double down on this.
Seeing the carrot washer in action and looking at other tools and machines this veg farmer has is really helpful for knowing what to aim for but I was also particularly interested in his homemade grid for washing the carrots, so much so that after 2 hours of talking he pulled out his home-brewed beer. We have made new friends!
by David Fryer on 2nd May 2023