What you'll need…
500g Apples
150g Blackberries
Juice of 1/2 Lemon
500g Granulated sugar
1/2 Tablespoon thyme leaves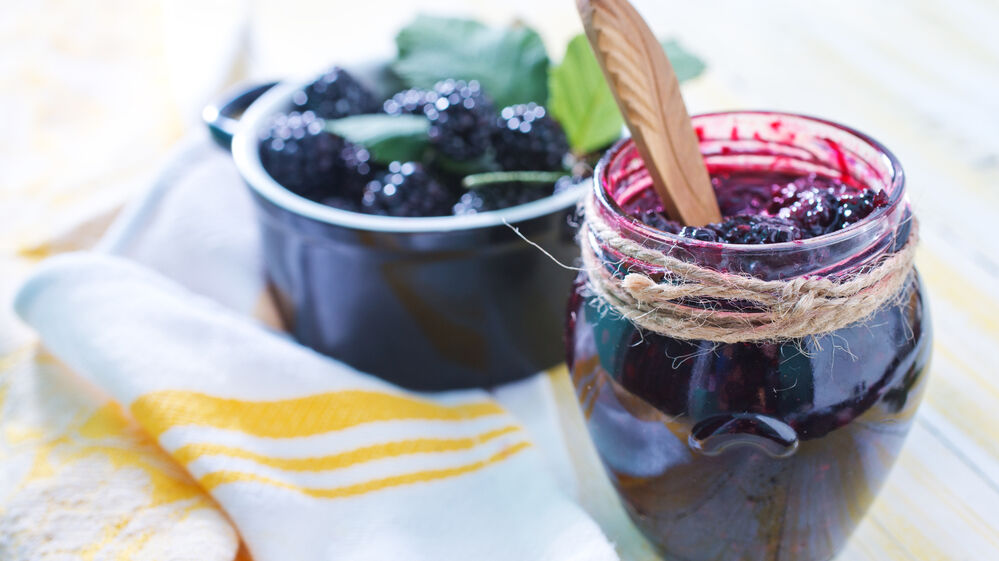 The method
1
Place some small plates into the freezer to use to test the jam for later. See step 4.
2
Prepare the apples by peeling, coring and chopping. Place the apples, blackberries, sugar and lemon juice into a heavy based pan along with 200ml of water.
3
Cook the fruit over a low heat, stirring occasionally, until the sugar has melted. Increase the heat slightly and allow the fruit to simmer until the apples are soft (10-15 minutes).
4
Turn up the heat and boil until the jam thickens. To test if it is ready, drop a tiny bit of jam onto the frozen plate, wait a few moments, then push the jam to the side with your finger. If the skin on top of the jam wrinkles then the jam is ready. If not, boil again for 2 minutes, repeat until the jam is ready.
5
Once the jam is ready, stir in the thyme leaves.
6
Pour the jam into sterilised jars and store in a cool place. Enjoy!
Recipe from Delicious