Apple and Mincemeat Crumble
A festive twist on a classic
What you'll need…
850g Apples
2 Ripe pears
Juice of 1/2 lemon
250g Mincemeat
75g Golden caster sugar
1/2 Teaspoon nutmeg
125g Marzipan
225g Plain flour
150g Unsalted butter
Pinch of salt
50g Golden caster sugar
50g Flaked almonds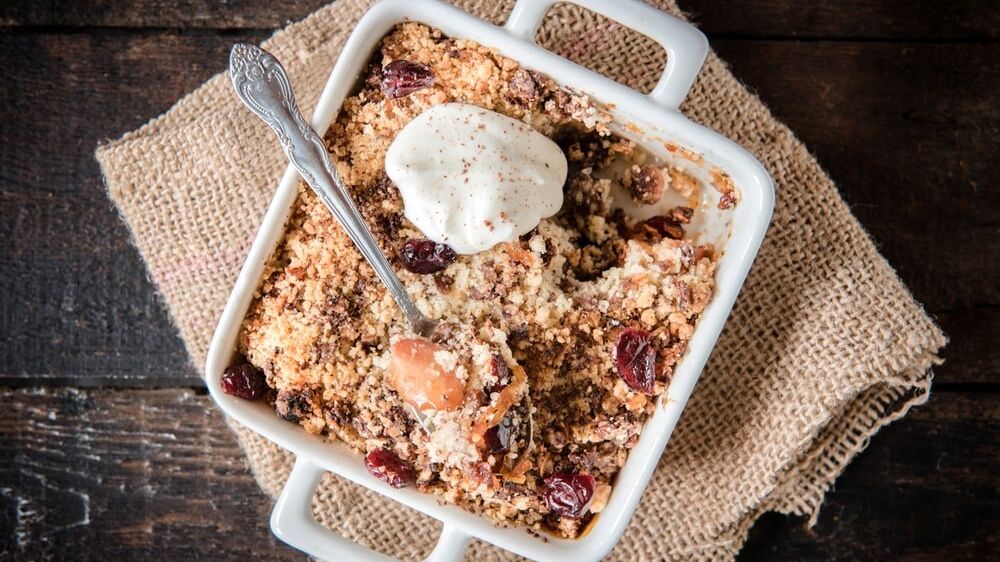 The method
1
Pre-heat your oven to 180°C. Prepare your fruit. Peel, core and quarter the apples and pears and cut into chunks. Place into a large bowl and squeeze over the lemon juice.
2
Add in the mincemeat, 75g of caster sugar, and nutmeg to the bowl and mix well.
3
Cut the marzipan into small chunks and stir into the mixture. Then pour into an ovenproof dish and cover with foil. Bake in the oven for 10 minutes while you make the crumble.
4
To make the crumble, add flour and butter to a large bowl with a pinch of salt. Use your fingertips to rub the butter and flour together until it forms a breadcrumb like texture.
5
Add in the sugar and flakes almonds and combine. Scatter the crumble over the fruit mixture, place back into the oven to bake for 45 minutes until golden brown.
6
Serve with brandy cream, brandy butter or custard, enjoy!
Recipe from BBC Food