What you'll need…
1 Harlequin squash
1 Tablespoons olive oil
Handful of thyme
1 Carrot
1 Onion
1 Garlic clove
1/2 Teaspoon turmeric
1/2 Teaspoon cumin
1/2 Teaspoon ground coriander
250ml Vegetable stock
Salt & pepper
Natural yoghurt
Chilli flakes
Squash seeds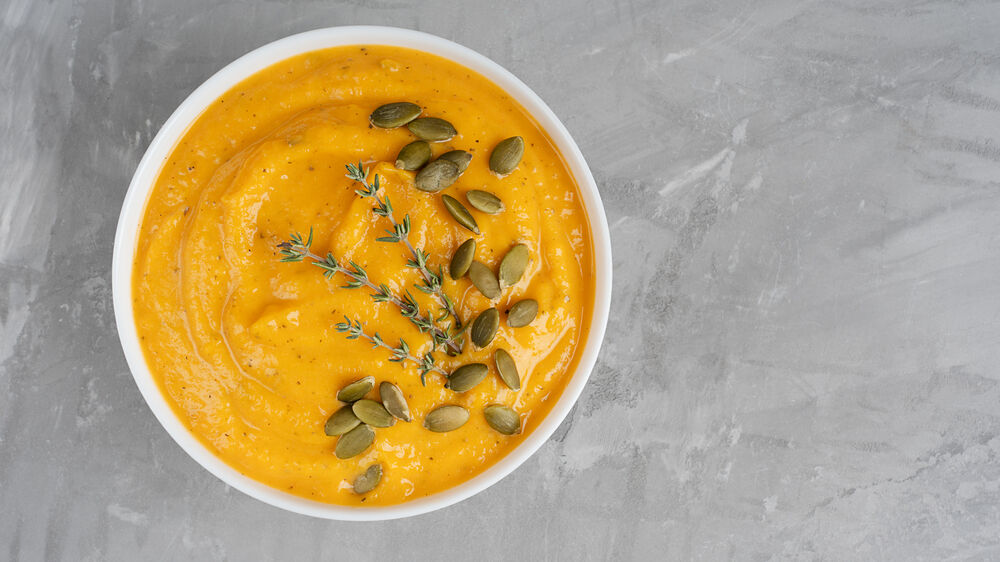 The method
1
Preheat your oven to 200°C. Remove the seeds from the squash and chop into chunks.
2
Add the squash to a large baking tray, drizzle over the olive oil. Scatter over half a teaspoon each of sea salt and cracked black pepper, then add the thyme. Mix well then roast in the oven for 20 to 25 minutes, until the squash is tender.
3
Chop your carrot, onion & garlic. Whilst the squash is roasting, heat some oil in a large saucepan. Add the onion and cook for 10 minutes over medium heat, stirring often. Add the carrot and the garlic and cook for another 5 minutes.
4
Now add the spices, and cook for about a minute, then if the squash is done add it to the saucepan. Remove any hardened sprigs of thyme before you add the squash to the pan.
5
Pour in the vegetable stock, add the salt and pepper. Bring to the boil then reduce the heat and simmer for 15 minutes. Check the seasoning, you may need a little more salt.
6
Blend the soup with a hand-held blender then serve immediately. Serve with a dollop of natural yoghurt, some squash seeds, a pinch of red chilli flakes and some crusty bread. Enjoy!
Recipe from The Last Food Blog