Spiced Parsnip Cake
A delicious treat packed with hidden veg
What you'll need…
500g Parsnips
230g Self raising flour
1 Teaspoon baking powder
1 Teaspoon ground cinnamon
1/2 Teaspoon ground nutmeg
2 Teaspoons ground mixed spice
200g Caster sugar
100g Chopped walnuts
3 Medium eggs
150ml Sunflower oil
2 Oranges (zest)
200g cream cheese
50g Unsalted butter
150g Icing sugar
1 Orange (zest)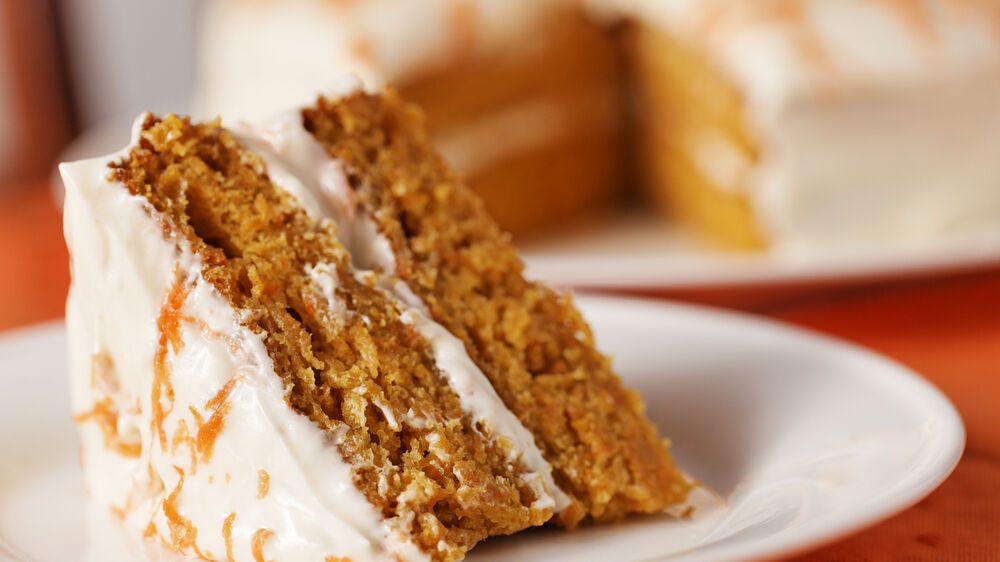 The method
1
Preheat your oven to 180°C. Begin by preparing your parsnips. Peel, and trim the ends before coarsely grating. Then zest the oranges.
2
Grease and line the base of 2 20.5cm sandwich tins with baking paper.
3
In a large bowl, mix together the flour, baking powder, cinnamon, nutmeg and mixed spice. Add the caster sugar and chopped walnuts, combine and set aside.
4
Put the eggs and sunflower oil in a separate bowl and beat together. Mix into the dry ingredients along with the parsnips and orange zest from 2 of the oranges. Mix until a thick batter has formed.
5
Spoon the mixture into the tins and bake for 25-30 minutes. The cake should be golden and a skewer should come out clean.
6
Leave the cake to cool in the tins for 10 minutes and then remove to allow to cool fully.
7
To make the icing, mix together the cream cheese, icing sugar, butter and orange zest - be careful not to over mix. Leave to chill in a fridge.
8
Once the cake is cooled, sandwich the cakes together using the icing. Top with walnuts and orange zest. Enjoy!
Recipe from Nadiya Hussain