Beetroot Tart with Feta & Thyme
What you'll need…
400g Beetroot
Olive Oil
1 Onion
300g Block puff pastry
1 Egg
3 Tablespoons balsamic vinegar
150g Crumbled feta
2 Sprigs thyme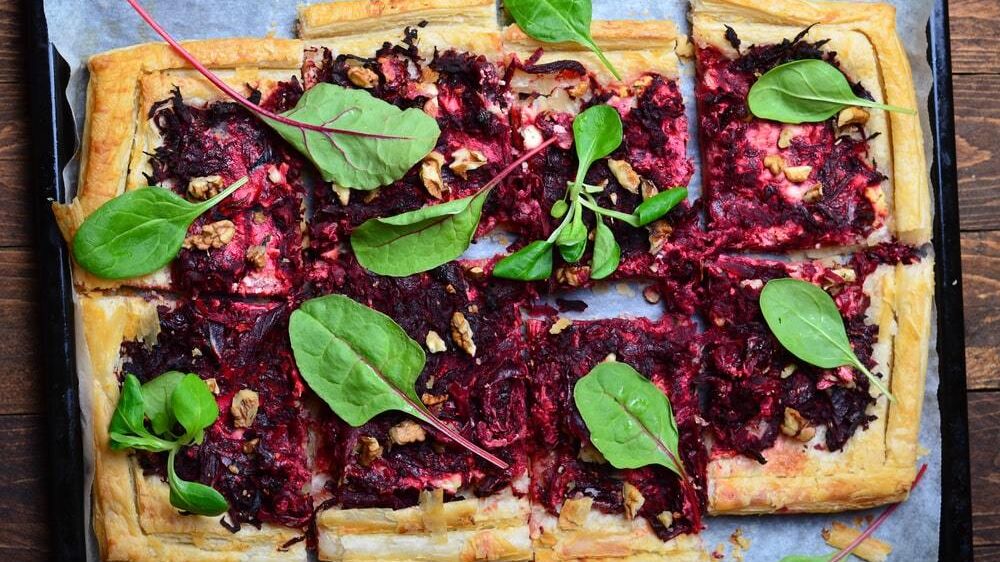 The method
1
Heat your oven to 200° and prep your ingredients. Scrub your beetroot so they are clean and then chop into quarters (you may wish to wear gloves). Place into a roasting tin and drizzle with olive oil - roast for 30 minutes.
2
Finely slice your onion and add to the roasting tray after 10 minutes, allowing to roast for around 20 minutes. Allow to cool slightly and place a flat baking sheet into the oven.
3
Roll the pastry out into a large rectangle and score a 1cm border around the edge. Place onto a baking sheet and egg wash the border.
4
Crosshatch the centre with a sharp knife but don't cut all the way through. Peel the skin off the beetroot wedges, and cut each piece into 2 or 3. Toss the beetroot in the balsamic and scatter it over the tart, along with the onion, feta and thyme leaves.
5
Season the tart to your liking. Put the tart tray on top of the baking sheet and bake for 20-30 minutes or until the pastry is puffed and golden. Push down the center if it has ballooned up. Scatter with more thyme leaves. Enjoy!
Recipe from Olive