Beetroot Tarte Tatin
Savory version of a classic dessert
What you'll need…
1 Bunch beetroot
200g Puff pastry
2 Teaspoons cumin
1 Tablespoon honey
50g Sugar
50ml Cider vinegar
50g Feta cheese
1 Large spring onion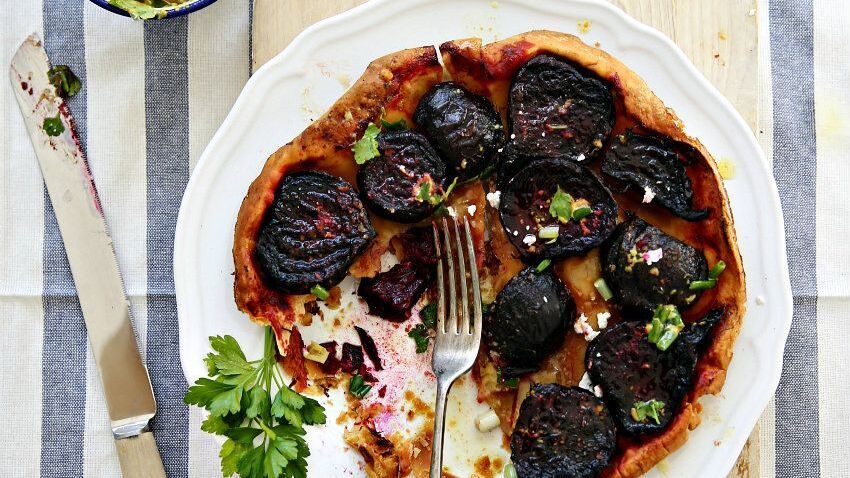 The method
1
Cut the tops from the beetroot, place into a roasting tray and bake for 30-45 minutes at 180 degrees. Allow to cool then pull the skins off (wearing gloves is recommended). Cut in half and leave to one side.
2
Put the cumin, sugar, honey, and vinegar into a heavy based (preferably non stick) frying pan then bring to the boil - allow to simmer gently for 10 minutes then allow to cool.
3
Arrange the beetroot flat side down in the pan on top of the sugar mixture. Roll out the puff pastry to 0.5cm thick and place on top of the beetroot.
4
Bake in a pre-heated oven at 200 degrees for 15-20 minutes until the pastry is golden. Whilst cooking, thinly slice the spring onion.
5
Once cooked, leave for 5 minutes and then carefully place a plate slightly bigger than the pan on top and flip the pan over, carefully slide the tarte off.
6
Crumble over the cheese and sprinkle the spring onions. Add a touch of orange zest to finish if you like. Enjoy!
7
Leave the tarte to cool for around 15 minutes, then turn it out by placing a plate on top and flipping it over.
Recipe by Mark Price, Groobarbs Field Kitchen