Beetroot Tarte Tatin
Savory version of a classic dessert
What you'll need…
250g rough puff pastry or all butter puff
A knob of butter
1 tablespoon rapeseed or olive oil
2 teaspoons cider vinegar
2 teaspoons soft brown sugar
300-400g beetroot (approx the size of a golf ball) halved
For the vinaigrette
3-4 spring onions (finely chopped)
1 teaspoon English mustard
1 tablespoon cider vinegar
4 tablespoons rapeseed oil
A pinch of sugar
Handful of parsley (chopped)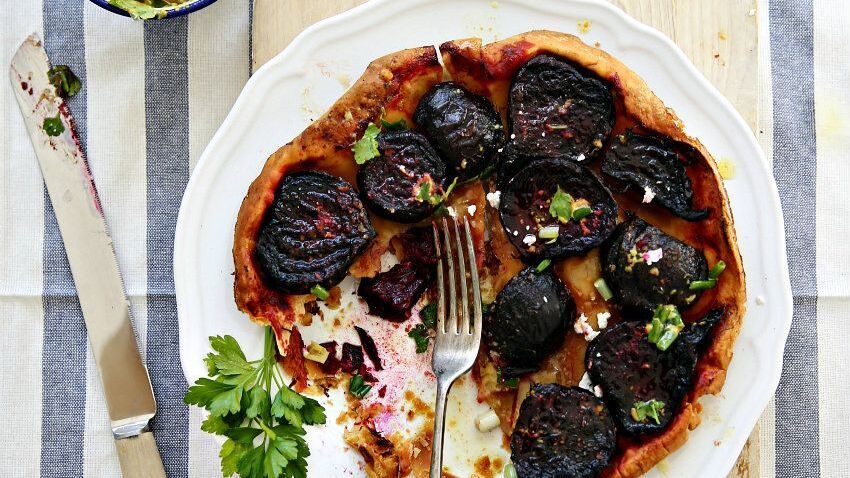 The method
1
Pre heat your oven to 190°C. Roll out your pastry onto a lightly floured surface until it is about 5mm thick.
2
Take an ovenproof frying pan (roughly 20cm in diameter), place upside down on the pastry and cut around it. Wrap the pastry disc and put in the fridge.
3
Heat the butter and oil in the frying pan and add the cider vinegar, sugar and seasoning, stir well. Then add in the halved beetroots. The beetroot should be filling out the pan so add a few more in if needed.
4
Cover the pan with foil, and place into the oven for 30-40 minutes or until the beetroot is soft.
5
Remove from the oven and arrange the beetroot halves neatly, placing them cut side up.
6
Lay the pastry disc over the beetroot, patting it down and tucking in any edges. Bake for a further 20 minutes until the pastry is golden brown.
7
Leave the tarte to cool for around 15 minutes, then turn it out by placing a plate on top and flipping it over.
8
Put the ingredients for the vinaigrette into a sealable container, season to your liking and shake to combine. Trickle over the tarte and serve. Enjoy!
Recipe inspired by Hugh Fearnely Whitingstall.