Brussels Sprout Spaghetti
With anchovy, lemon and capers
What you'll need…
400g Brussels sprouts
180g Spaghetti
2 Tablespoons olive oil
2 Garlic cloves
1 Red chilli
4 Anchovies
125ml Dry white wine
1 Teaspoon baby capers
1 Lemon
30g Parmesan
Basil leaves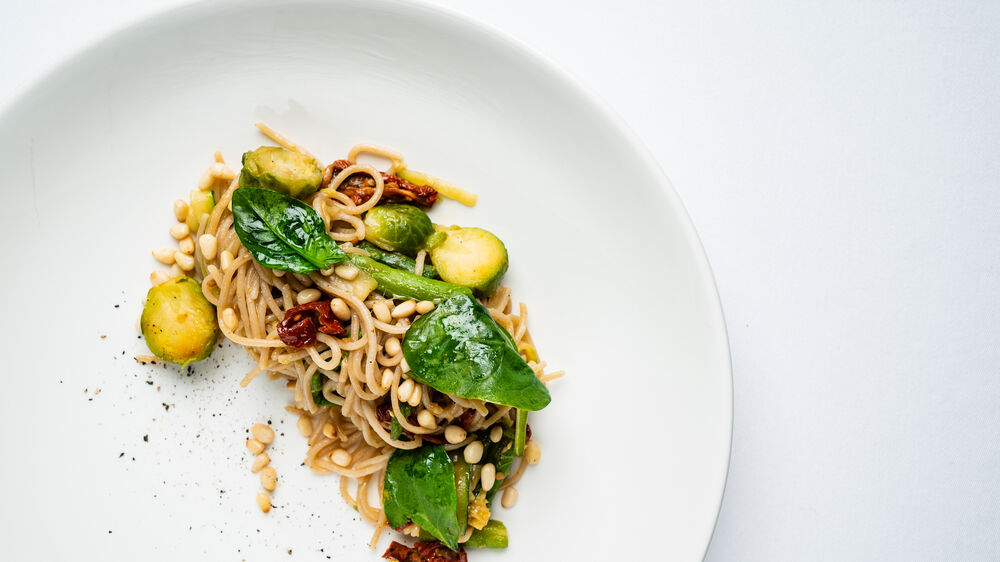 The method
1
Begin by prepping your ingredients. Firstly, thinly slice the Brussels sprouts and garlic, and finely chop the chilli. Roughly chop the anchovies, then zest and juice the lemon. Finally, grate your parmesan.
2
Bring a pot of water to the boil and cook your pasta as per packet instructions (reserve 125ml of the pasta water).
3
Heat the olive oil in a large pan and add in the garlic. Fry until fragrant and then add in the chopped chilli, anchovies, and capers. Cook for 1 minute.
4
Add in the wine and simmer for 2 minutes until it has slightly reduced. Add in the chopped sprouts and stir well, allow to cook until slightly softened.
5
Add the cooked pasta to the sprout mixture with the reserved pasta water and toss everything together. Then add in the lemon juice and zest as well as the grated parmesan and combine until the parmesan has melted to form a creamy sauce.
6
Serve with basil leaves and enjoy!
Recipe from delicious.