Cauliflower Pizza Crust
A lighter pizza alternative
What you'll need…
1/2 Cauliflower
1 Egg
50g Parmesan
Spray olive oil
1/2 Garlic clove
Pinch of chilli flakes
250ml Passata
Handful of basil
1/2 Ball Mozzarella
Rocket (to serve)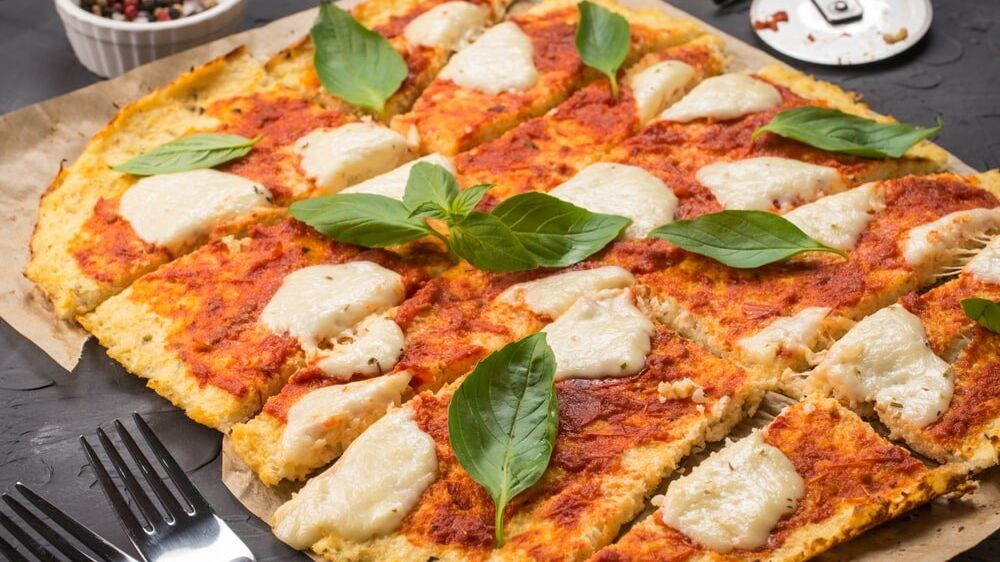 The method
1
Pre-heat your oven to 200°C. Put a pot of water onto boil and break your cauliflower into florets.
2
Once boiling, add the florets to the water and cook for 4 minutes then drain well.
3
Once cooled and dried, transfer to a food processor and blitz until it forms a couscous like consistency. Pour into a bowl and mix well with the egg and grated parmesan, season to your liking.
4
Once well mixed, spread the mixture onto a lined baking tray, spray with olive oil and press into a pizza shape using a spatula. Bake for 15-20 minutes until golden and firm.
5
Chop the garlic and fry in some olive oil along with the chilli flakes. After 1 minute, add in the passata. Reduce until you have a thick, spreadable consistency. Add in the basil and season to your liking.
6
Spread the tomato sauce over the pizza base and then tare pieces of the mozzarella for the top. Feel free to add any other toppings you may wish.
7
Place back into the oven for 10 minutes until the cheese is golden. Scatter with rocket and enjoy!
Recipe from Olive