What you'll need…
950g Harlequin Squash
100g gruyère
2 Tablespoons wholegrain mustard
200ml Milk
300ml Double Cream
8 Sage leaves
2 Garlic cloves
2 Onions
1 Tablespoon olive oil
Small knob of butter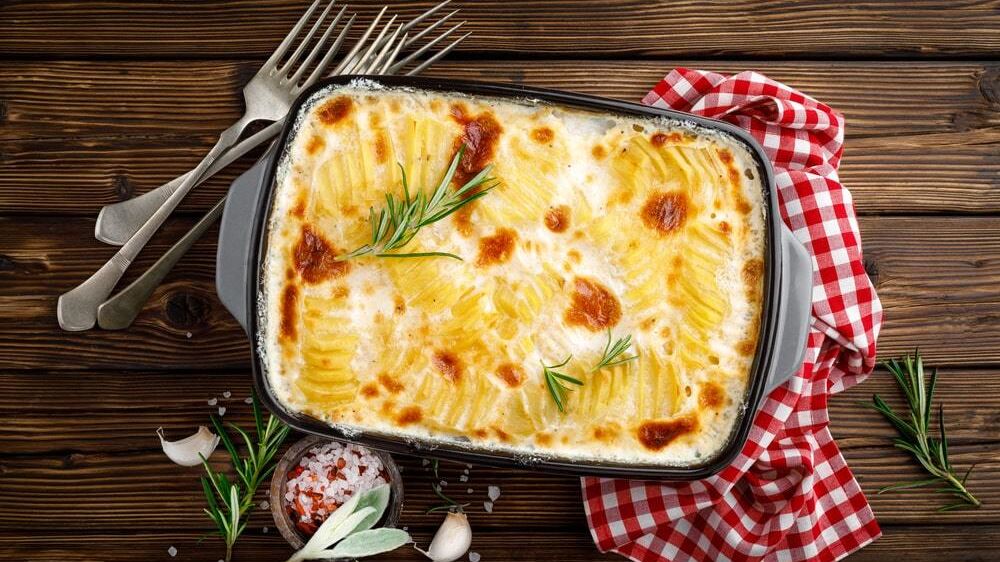 The method
1
Prepare your squash by slicing in half, scooping out the seeds and thinly slicing (make sure to remove the skin).
2
Thinly slice your onions and crush your garlic. Then grate the gruyère.
3
Heat the butter and oil in a frying pan and add in the onions. Slowly cook them over a low/medium heat until golden and soft, then put aside.
4
In a separate pan add in garlic and 4 sage leaves, followed by the cream and milk. Gently heat and continue to stir (don't allow to boil) for 5 minutes. Leave to cool and once cooled remove the sage leaves. Stir in the mustard and season to your liking.
5
Heat the oven to 180°C. Layer the squash slices, onions and most of the cheese in a large baking dish. Pour over the garlic and sage infused cream and top with a layer of cream. Sprinkle the remaining cheese and sage leaves over the top and cover will foil. Bake in the oven for 45 minutes.
6
After 45 minutes, remove the foil and increase the heat to 200°C, cook for a further 20-30 minutes until golden brown and the squash is tender. Enjoy!
Recipe inspired by BBC Good Food