What you'll need…
900g White cabbage
1 Tablespoons coarse crystal sea salt
Half a teaspoon caraway seeds
2 Teaspoon peppercorns
For this recipe you will need a 750ml clip top jar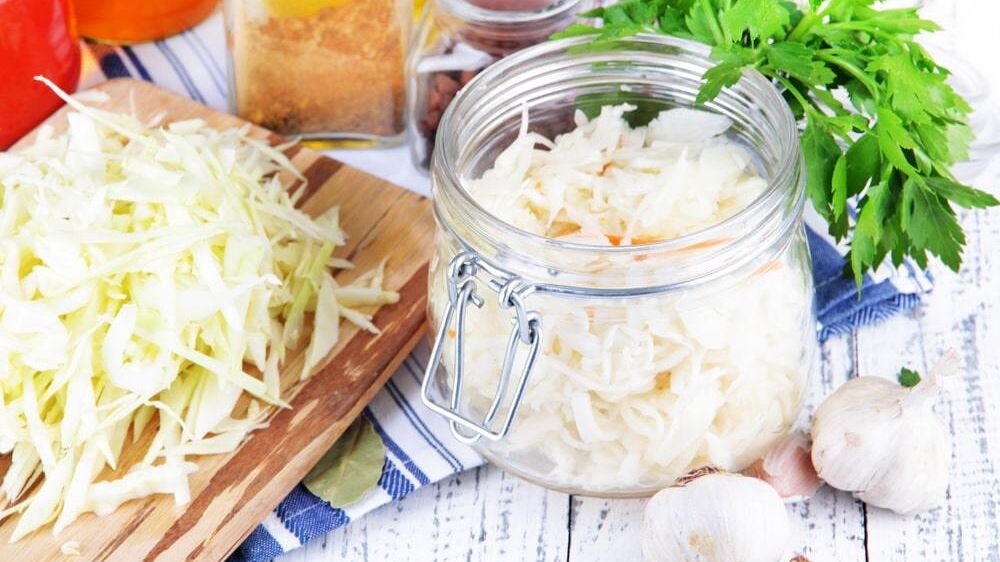 The method
1
Shred the cabbage, wash and allow to dry. Prepare the equipment. Wash everything thoroughly in hot soapy water, paying particular attention to the rubber seal on the jar lid. Rinse everything under very hot water and leave to air dry.
2
Put the cabbage into a clean mixing bowl and add the salt. Massage the salt into the cabbage for 8-10 minutes (make sure your hands are clean), or until the cabbage is limp and watery. There should be liquid left in the bowl, reserve this.
3
Toss the cabbage with the peppercorns and caraway seeds. Transfer the cabbage to the serialised jar along with the reserved liquid, make sure to leave a large gap at the top. Press the cabbage down well using a clean spoon.
4
Place a ramekin or clean jar on top of the cabbage and fill with filtered water or baking beans to weigh it down, making sure the cabbage is underneath the liquid. Cover with a lid and fasten tightly.
5
Leave the cabbage to ferment in a cool place (not the fridge) and away from direct sunlight for 4-7 days. Loosen, then tighten, the lid briefly each day to allow any gas to escape that has collected as the result of the fermentation process.
6
Try the sauerkraut after 4 days, if you like the taste, slow the fermentation process by chilling. Or leave for longer to develop the flavour more. It should taste tangy with a slightly salty cabbage flavour.
7
If the sauerkraut doesn't taste acidic, has an off smell or is discoloured then throw away the batch. Once it is ready it can be stored in the fridge. If kept sealed, it should last for a few months and will develop a stronger, more tangy flavour. If you are dipping in regularly, you may inadvertently introduce other bacteria to the jar, so it's best consumed within a week or two.

8
Monitor the cabbage and make sure the gases produced are allowed to escape. If the sauerkraut continues to ferment, you will need to loosen the lid occasionally, probably every 3-4 days. Eventually, no more gas will be produced.


Recipe from BBC Food