Spring Green Tagliatelle
Quick, easy and versatile
What you'll need…
100g Spring Greens
2 Leeks
2 Garlic cloves
2 Lemons
20g Unsalted butter
120g Creme fraiche
200g Fresh pesto
400g Tagliatelle
Small bunch of basil
Parmesan (optional)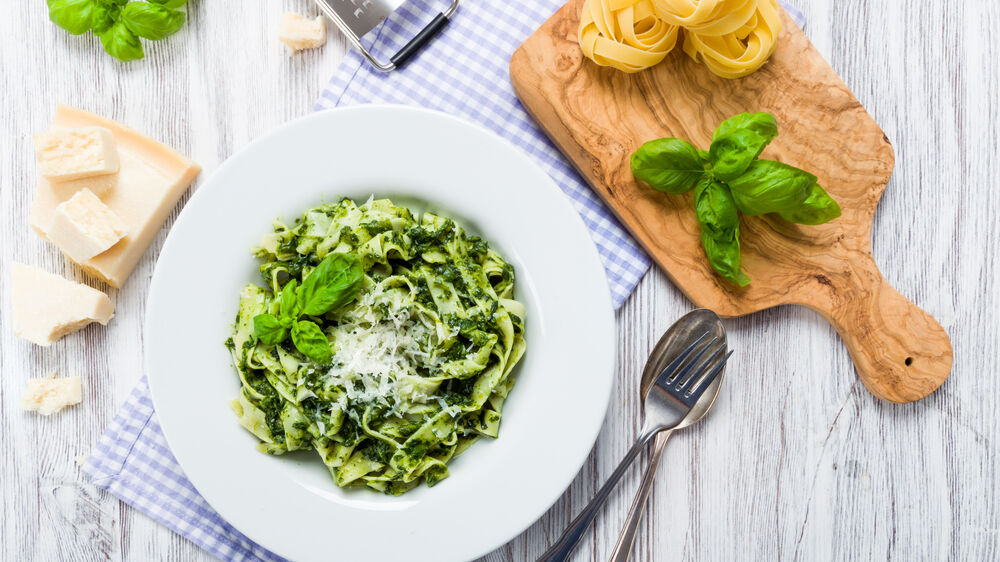 The method
1
Begin by preparing your ingredients. Shred your spring greens finely and finely chop your leeks. Then zest and juice the 2 lemons and crush the garlic cloves.
2
Bring a pot of water to the boil, in the meantime, melt the butter in a large pan. Then add the leeks and fry for 5-10 minutes until soft.
3
Add the garlic and spring greens to the pan and cook for 1-2 minutes, then add in the lemon juice and zest and season to your liking. Turn up the heat and add a splash of pasta water, then cook until the greens soften.
4
Turn the heat down, add in the creme fraiche and 2/3rds of the pesto and turn off the heat.
5
Cook the pasta according to packet instructions, then stir into the pesto - creme fraiche mixture along with 100-200ml of pasta water (enough to create your preferred consistency).
6
Stir the basil and remaining pesto through, and sprinkle with parmesan if you like. Enjoy!
Recipe Inspired by Egg Info