What you'll need…
150g Butter
300g Digestive biscuits
650g Cream cheese
175g Icing sugar
300ml Double cream
1 Vanilla pod
1 Teaspoon vanilla extract
200g Strawberries (for the filling)
250g strawberries (for the topping)
50g Caster sugar
1 Teaspoon corn flour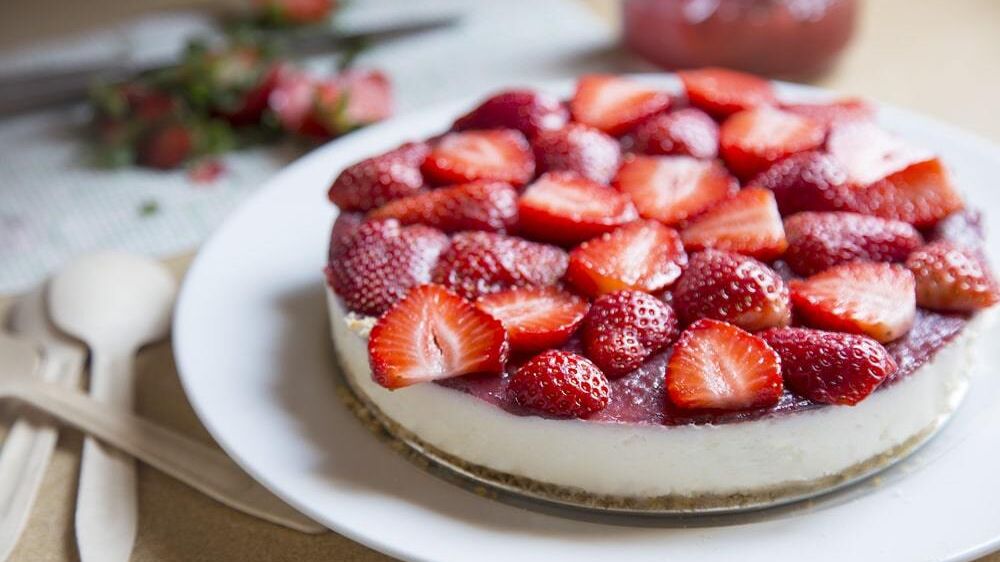 The method
1
Begin by preparing your ingredients. Hull and dice the strawberries that you are using for the filling, then hull and half the strawberries you are using for the top. Melt the butter and scrape the seeds out of the vanilla pod.
2
Lightly butter the base and sides of a deep 20cm springform tin and line the bottom with baking paper.
3
Put the digestive biscuits into a food processor and blitz until it forms crumbs. Add the butter and pulse again. Spread out into the bottom of the springform tin and press down so that it forms an even base. Put into the fridge to set.
4
Place the cream cheese into a mixing bowl and whisk until fluffy. Add the icing sugar and gently whisk until smooth. Pour the cream into a separate bowl, add the vanilla seeds and extract, and whisk to very soft peaks. Gently fold the cream and diced strawberries into the soft cheese mixture.
5
Spoon the filling over the biscuit base and spread until even and smooth. Put the cheesecake into the fridge and leave to set for at least 4 hours.
6
To make the topping, put the 100g of halved strawberries into a small pan with the caster sugar and a splash of water. Cook over a low-medium heat for 8-10 minutes or until the sugar has dissolved and the strawberries have softened. Gently mash the strawberries in the pan to break them down, then pass through a sieve into another bowl and pour the juice back into the pan. Add the cornflour and stir constantly on a low heat until the sauce is thickened and smooth. Cool.
7
Once the cheesecake has set, take it out of the fridge, carefully remove from the tin and transfer to a serving plate. Pour over the strawberry sauce, top with the remaining halved strawberries and serve. Enjoy!
Recipe from Olive