What you'll need…
4 Cabbage leaves (large outer leaves)
40g Wholegrain rice
1/2 onion
50g Chestnuts
30g Dried cranberries
20g Pistachio nuts
2 Tablespoons olive oil
1 Tablespoon red wine vinegar
1 Tablespoon tamari (or soy sauce)
Bunch fresh parsley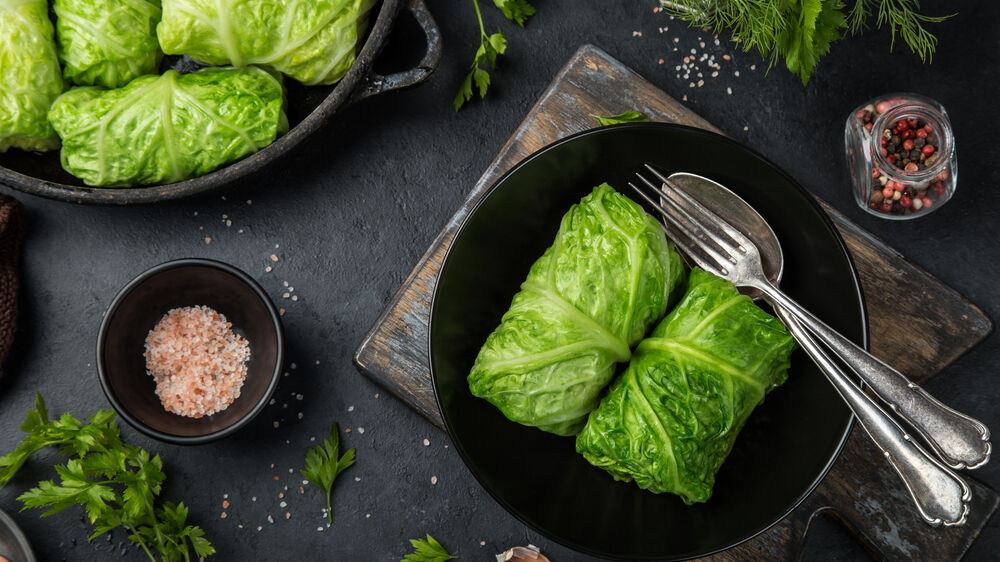 The method
1
Start by preparing the filling. Roughly chop the chestnuts and parsley and finely slice the onion.
2
Cook your rice as normal, but allow it to slightly overcook (it will help the mixture bind together).
3
While the rice is cooking, sautée the onions, allowing them to slightly caramelise. Add in the chestnuts, cranberries and pistachios and allow to cook for 2 minutes.
4
Add in the rice, Tamara, red wine vinegar and olive oil and cook for a further 2 minutes, ensuring the rice soaks up all the flavour.
5
Prepare your cabbage leaves by bringing a pan of salted water to the boil. Place the leaves in the pan for 2 minutes and then remove. Pat dry and trim the bottom third of the vein of the leaf (it makes It difficult to roll).
6
Pre-heat your oven to 180°C. Transfer the rice mixture to a food processor and pulse a few times. Divide the mixture into 4.
7
Place the rice mixture inside the leaf and roll, use a cocktail stick to secure if needed.
8
Place the cabbage rolls into a roasting dish, drizzle with olive oil and season well. Roast for 20 minutes.
9
Serve with a drizzle of olive oil and a sprinkling of parsley. Enjoy!
Recipe from Great British Chefs