What you'll need…
1 Head of broccoli (375g)
6 Large eggs
1 Heaped teaspoon English mustard
300g Cottage cheese
50g Cheddar cheese
3 Tablespoons red pesto
270g Filo pastry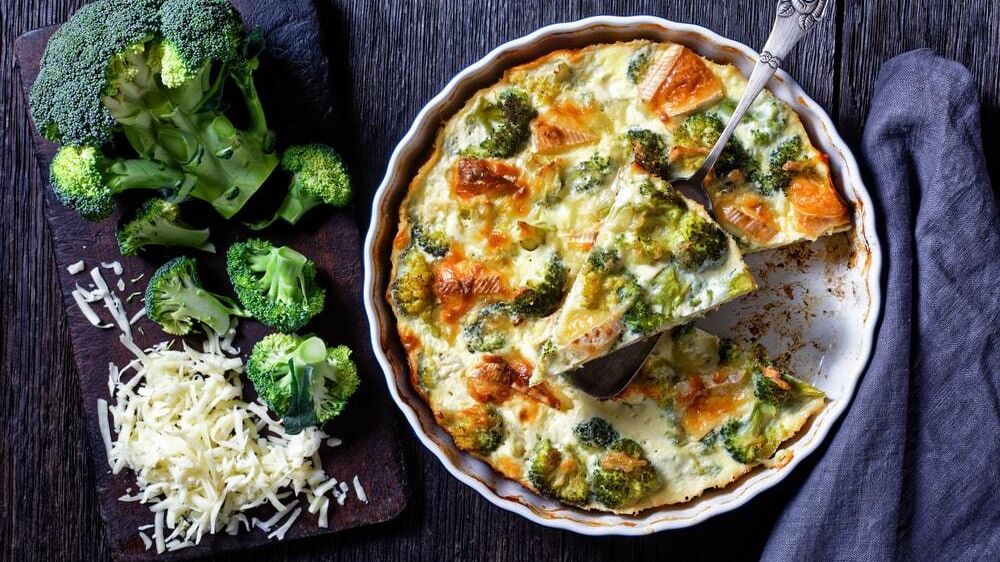 The method
1
Preheat your oven to 180°C. Chop the tough end of the broccoli off the stalk, then grate the remaining stalk. Break the florets apart.
2
Beat the eggs lightly, add in the mustard, cottage cheese and grated broccoli stalk. Grate in the cheddar and season to your liking. Mix well.
3
Loosen the pesto with 3 tablespoons of water. Lay two sheets of pastry in an oiled loose-bottomed tart tin (25cm wide, 4cm deep), overlapping them in the middle.
4
Brush all over with some of the pesto mixture, then repeat the layers until you've used up all the pastry, brushing with pesto as you go. Roll and scrunch the filo in at the sides.
5
Pour in the filling, then add in the broccoli florets. Place on a baking tray and place into the bottom of the oven for 50 minutes or until golden and set. Allow to rest for 10 minutes, then enjoy!
Recipe from Jamie Oliver