Whole Roasted Cauliflower
What you'll need…
1 Head of Cauliflower
4 Garlic cloves
1 Teaspoon smoked paprika
1/2 Bunch fresh thyme
Olive oil
1 Lemon
4 Tablespoons dry sherry
1 x 400g Tin plum tomatoes
40g flaked almonds
1/2 Bunch flat leaf parsley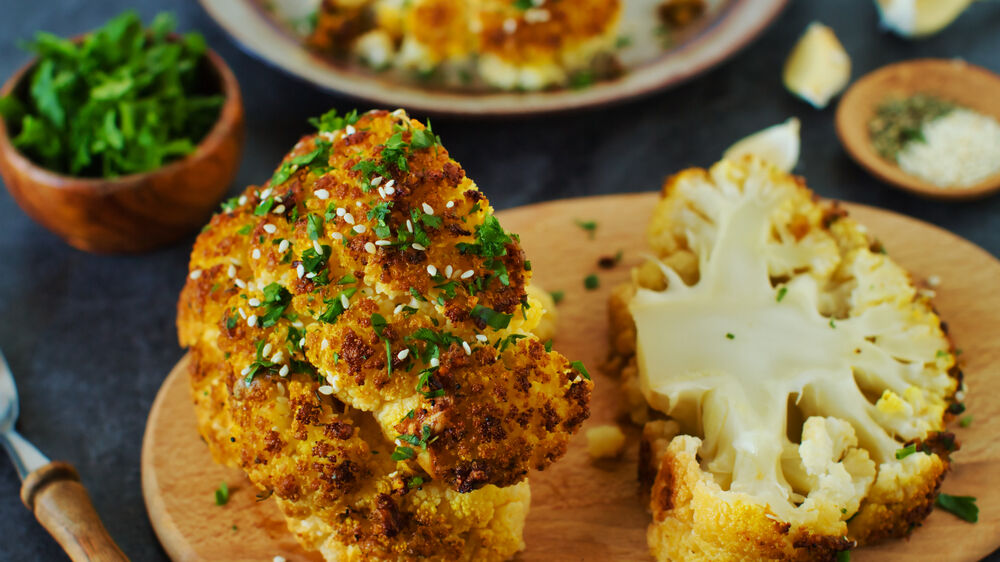 The method
1
Pre-heat your oven to 180°C.
2
Peel the garlic, and add to a pestle and mortar. Then add in the paprika and half the thyme leaves. Bash well to form a paste. Then add in 2 tablespoons of olive oil and season to your taste.
3
Zest the lemon and place to one side.
4
Remove the outer leaves from the cauliflower and chop the base so that it can sit flat, then cut a cross into the base.
5
Rub the paprika paste over the cauliflower and place into a deep baking tray. Pour over the sherry and squeeze the lemon juice over the top.
6
Cover with a lid and place into the oven for 1 hour and 20 minutes or until tender. Remove the lid for the final 20 minutes.
7
Remove from the oven and pour over the tomatoes, make sure to tare them apart slightly. Sprinkle over the lemon zest and remaining thyme leaves. Place back into the oven for a further 10 minutes until golden.
8
In the meantime, toast the almonds in a pan over a medium heat until golden, then allow to cool.
9
Once the cauliflower is done, remove from the oven and sprinkle over the toasted almonds, then roughly chop the parsley and scatter over the top.
10
To finish, drizzle over some olive oil, and serve with rice and greens, enjoy!
Recipe from Jamie Oliver